Being a millennial, you may be used to looking up recipes on the internet that are fast and easy to make in these times when life is so hectic. However, it's the classic mom's dinner recipes, the aromatic delicacies that bring the true glamour to the table when you are really trying to impress a special gathering!
There is nothing like a good old Grandma Edna's chilli recipe or your mom's heart warming apple pie or that roasted turkey to save the day, the memory of which still brings water in your mouth. Mom's recipes are the ultimate comfort food for your soul. They are scrumptious, delicious and involves no particular technicalities. The best food to serve and to devour!
So here is a list of 15 amazing mom's dinner recipes, the ultimate comfort food throughout the generations, that you can easily try out at home today! They are easy to follow and will lighten your kitchen up with the aroma of the special bond that exists between the moms all around the world.
Top 15 Favorite Mom Dinner Recipes
These 15 classic dinner recipes promise to take you back to your childhood, into your mom's aromatic kitchen. So read on and choose the one that's perfect for your next dinner party.
1. Srumptuous Classic Hamburger Stew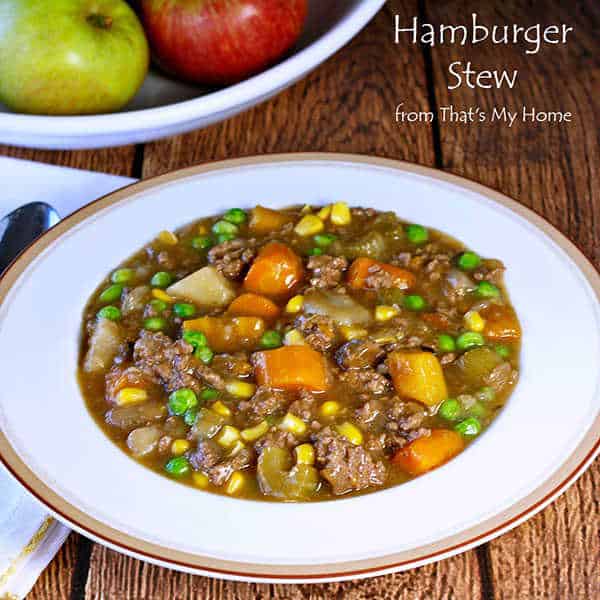 Prep time: 20 minutes, Cook time: 65 minutes; Servings 6
INGREDIENTS
2 lb ground beef
2 medium onions – chopped
4 cans of 14.5 ounces of undrained stewed tomatoes
8 thinly sliced medium carrots
4 thinly sliced celery ribs
2 peeled and cubed medium potatoes
2 cups water
1.5 cup rice
3 teaspoon salt
1 teaspoon pepper
INSTRUCTIONS
Place the Beef and onions in a Dutch oven. Make sure the meat should be cooked until it's not pink anymore.
Add carrots, celery, tomatoes, potatoes, water, salt, pepper and rice.
Bring it to boil.
Reduce heat, cover and simmer for 30 minutes.
The vegetables and rice should be tender.
Uncover and cook for 30 more minutes or until it thickens to a desired consistency.
Nutrition
Calories: 191 Kcal, 7 Gram Fat, Saturated fat: 3 grams, Cholesterol: 35 gram, Sodium: 689 mg, Carbohydrate: 21 gram, 8 grams Sugar, Fiber: 2 gram, Protein: 12 gram.
2. Cordon Bleu Casserole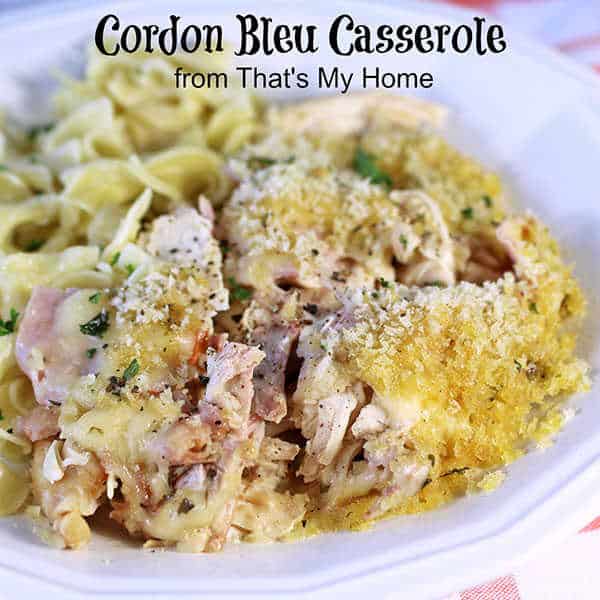 Prep time: 15 minutes,  Cook time: 45 minutes, Serving 6
INGREDIENTS
White Rice ¾ Cup
Water 1 Cup
Cream of chicken soup 12 ounce
The dijon mustard 1 tablespoon
Boneless chicken 1 lbs (cubed)
Ham 6 slices
Swiss cheese 6 slices
Season bread crumbs 1.5 cups
INSTRUCTIONS
Preheat oven to 375 degrees Fahrenheit.
Add water, rice, Dijon mustard and cream of chicken soup. Stir everything.
Place boneless chicken on top.
Sprinkle chicken with salt and pepper.
Evenly distribute the ham on top of the chicken.
Put cheese slices on top of ham.
Sprinkle evenly the bread crumbs on top.
Cover it properly with a foil.
Bake for 40 minutes.
Remove the foil and bake for five 4 minutes, so that the top of the casserole is Brown
Nutrition
Calories: 51 Kcal, Fat: 38g, Saturated Fat: 19g, Cholesterol: 127mg, Sodium: 1061mg, Potassium: 341mg, Carbohydrates: 16g, Sugar: 5g, Protein: 25g, Vitamin A: 950IU, Vitamin C: 2.4mg, Calcium: 249mg, Iron: 1.6mg
3. Peach Dumplings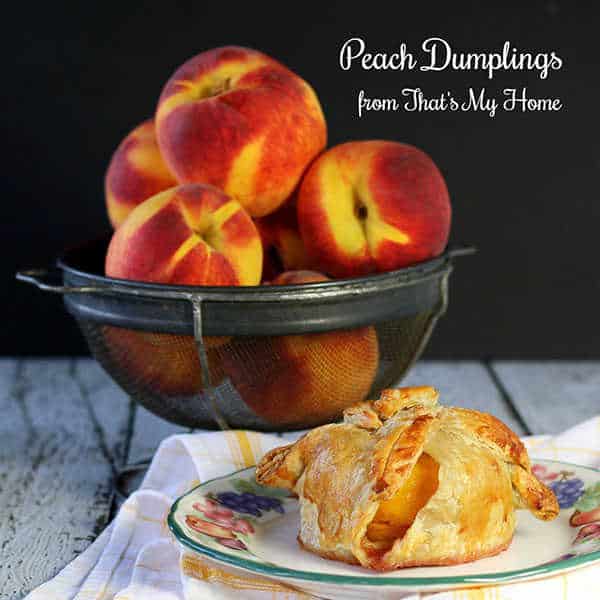 Prep time: 2 Hours, Cook time: 20 minutes; Serves 20
INGREDIENTS
8 potatoes
1 egg
5 cups all-purpose flour
10 ripe peaches (should be firm)
1 cup white sugar
1.5 cup melted butter
Packet of crushed vanilla wafers
INSTRUCTIONS
Bring the potatoes to a boil over medium heat. Put them through a ricer.
Place the riced potatoes on a clean work surface. Crack the egg over the top. Try to make a soft dough with your hands.
On lightly floured surface, roll the dough out to 0.25 inch thickness. Roll out half the dough at one time. Cut the dough into equal inch squares so peaches can fit in. Wrap each peach in a square of dough.
Bring a large pot of water to a boil.
Put the peach dumplings into the water. The peach should be covered with the water. Use 2-3 pots to save time.
Boil them for 20 minutes. Keep rotating so that they can be evenly cooked. Once cooked remove from water.
To serve, cut the peach dumpling and place it on a plate.
The pit should be removed.
Add melted butter and the vanilla wafer crumbs for added texture.
Nutrition
Calories: 761Kcal, Fat: 19.2g, Carbohydrate: 135.3g, Protein: 12.6g, Cholesterol: 43mg, Sodium: 225mg
4. Salmon Noodle Casserole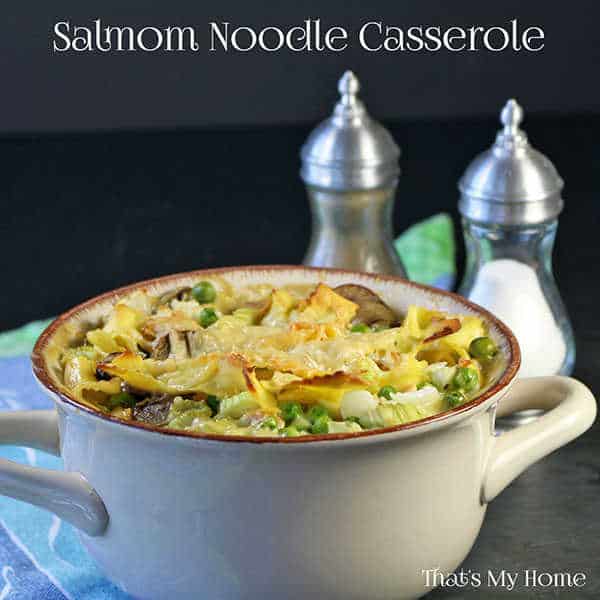 Prep time: 15 minutes, Cooking time: 30 minutes; Servings 4
INGREDIENTS
4 ounces shell pasta
1 can condensed cream of celery soup
1.5 cup mayonnaise
1.25 cup milk
1.25 cups shredded cheddar cheese
10 ounces frozen peas
7.5 ounces salmon(boneless and skinless)
1 tbspoons finely chopped onion
INSTRUCTIONS
Cook the pasta according to the package directions.
In a large bowl, combine the soup, mayonnaise, milk and cheese until blended.
Stir in the peas, onion and salmon.
Add the pasta to this salmon mixture.
Grease a baking dish and transfer everything to the dish.
Bake at 350° for 35 minutes.
Nutrition
Calories: 532 Kcal, Fat: 32g (7g saturated fat), Cholesterol: 46mg, Sodium: 1120mg, Carbohydrate: 38g, Sugars: 6g, Fiber: 5g, Protein: 21g
5. Cranberry Pork Chops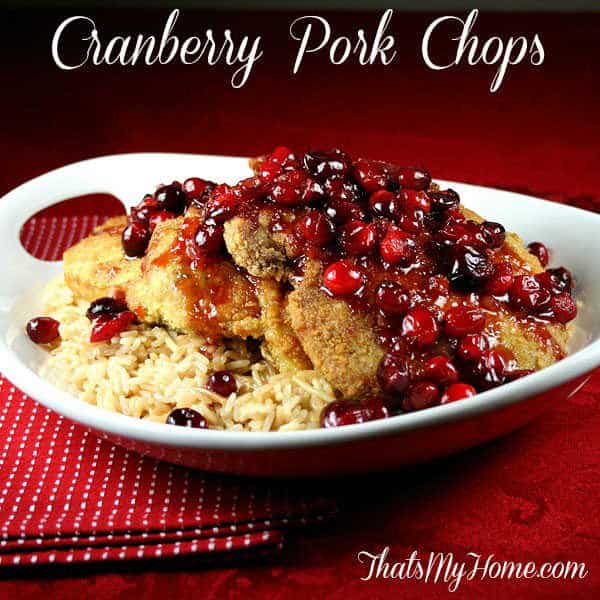 Prep time: 25 minutes, Cook time: 45 minutes; Servings 6
INGREDIENTS
6 pork chops
2 cups cranberries
12 tablespoons white sugar
1 teaspoon salt
Quarter teaspoon ground black pepper
Water as needed
INSTRUCTIONS
Heat the oil.
Put chops slowly in oil. Preferably in a skillet. Remove the excess oil.
Start adding the cranberries, sugar, salt and pepper.
Now add 1.5 cups of water.
Bring to a boil and then reduce the heat.
Cover and simmer for about 45 minutes. Make sure it's tender and not dry.
Add more water if needed so the chops don't dry out.
Nutrition
Calorie: 229 Kcal, Total fat: 6.3g, Cholestero: 37mg, Sodium: 409mg, Carbohydrates: 29.5g, Protein: 13.9g
6. Pork Chop Marsala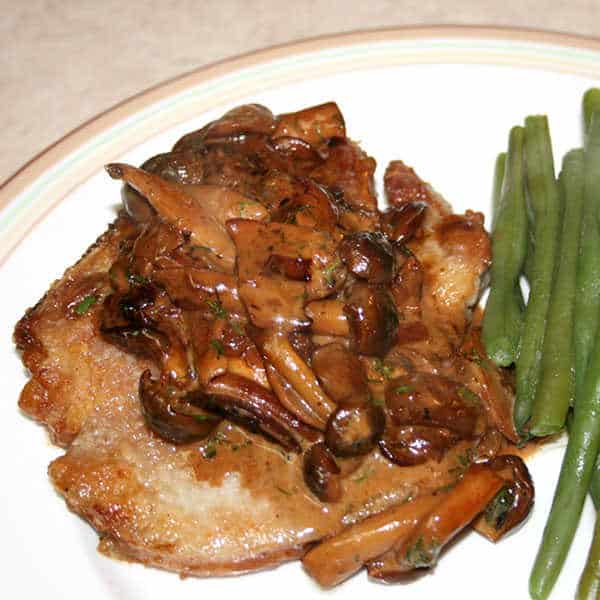 Prep time: 10 minutes, Cook time: 30 minutes; Servings 4
INGREDIENTS
Boneless pork chops (about 1 3/4 pounds total)
Salt
Black pepper
1.5 cups all-purpose flour
3 tablespoons olive oil
5 tablespoons unsalted butter
1 lbs mushrooms, thickly sliced
2 teaspoons garlic
1 teaspoon freshly chopped thyme leaves
0.75ml sweet marsala wine
0.75 ml low-sodium chicken broth
INSTRUCTIONS
Season pork with salt and pepper.
Evenly coat the flour on the seasoned pork.
Do not discard the extra flour.
Heat the oil and 2 tablespoons of the butter in large frying pan or cast-iron skillet over medium-high heat until simmering.
Add the pork and sear until dark golden-brown.
Transfer to a plate.
Cook mushrooms in a pan. Stir every few minutes until they are brown.
Add the garlic and thyme and cook until fragrant.
Add 1 tablespoon of the remaining flour and stir and cook for 1 minute. Stir in the marsala and chicken broth. Bring to a simmer until it thickens.
Put the pork chops to the pan. Simmer until it cooks through.
Remove from the heat. Add the remaining 3 tablespoons butter until melted.
Season with salt and pepper.
Serve with noodles or bread.
Nutrition
Calories: 630Kcal, Fat: 39.3g, Saturate fat: 4g, Carbs: 19.9g, Fiber: 1.5g, Sugars: 2.4g, Protein: 42.0g, Sodium: 105.4mg
7. Pineapple Upside Down Cake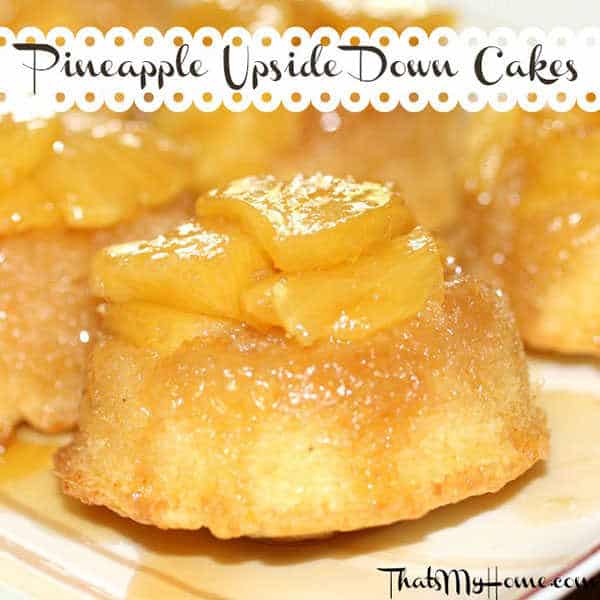 Prep time: 20 minutes, Cooking time: 35 minutes; Servings 8
INGREDIENTS
• 1/2 cup butter
• 1 cup brown sugar
• 1 (20 ounce) pineapple slices
• 3 eggs
• 1 cup sugar
• 2 oz milk
• 1⁄4 cup pineapple juice
• 1 teaspoon vanilla
• 120g all purpose flour
• 2 teaspoons baking powder
• 1⁄4teaspoon salt
INSTRUCTIONS
Use a 10 inch pan.
On a low heat, melt 4 tablespoons of butter.
Evenly coat the bottom of the pan with brown sugar.
Remove the pan from the heat.
Put the pineapple slices in a circle on top of brown sugar.
Combine 4 tablespoons butter and sugar. Start adding one egg at a time and keep blending. Add juice and vanilla. Sugar should be completely dissolved while beating.
Sift the flour, baking powder and salt.
Mix the egg mixture with dry ingredients.
Transfer it over the pineapples.
Bake at 350 degrees for 35 minutes.
Let it cool for 10 minutes and then flip the skillet over.
Nutrition
Calories: 461.7kcal, Total Fat: 13.9, Saturated Fat: 8.1, Cholesterol: 101.3mg, Sodium: 304.4mg, Total Carbohydrates: 81g, Fiber: 1.6g, Sugars: 59.6g, Protein: 5.6g
8. Mom's Homemade Apple Sauce Recipe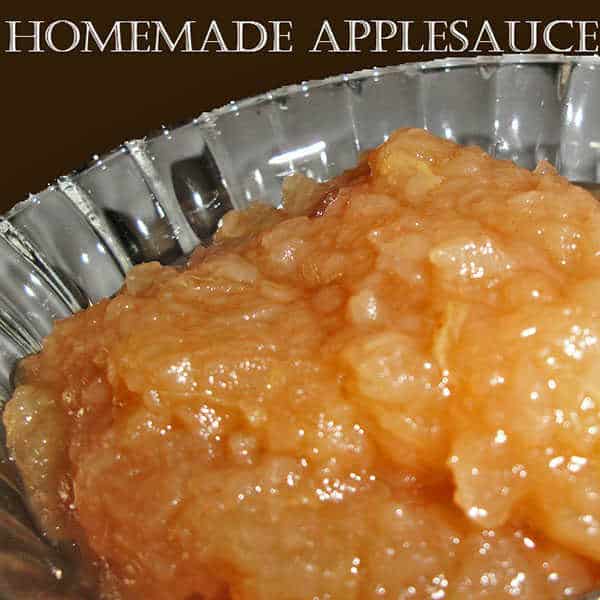 Prep time: 15 minutes, Cook time: 30 minutes; Servings 4
INGREDIENTS
66 lbs apples
3/4 cups water
Pinch of salt
3/4 cup granulated sugar
1 teaspoon ground cinnamon
INSTRUCTIONS
Core the apples and add them in a large pot.
Add salt in the water and boil the apples.
Cook until apples have lost their shape.
Let them cool before following the next step.
Set a food mill over a large pot.
Start pouring some of the apple mixture into the top of the mill. The liquid will flow through first, then begin turning the handle of the food mill clockwise to force the pulp through the holes.
Stir thoroughly after adding sugar and cinnamon.
Nutrition
Calories: 131kcal, Total Fat: 0.3g, Carbohydrates: 34.8g, Fiber: 4g, Protein: 0.5g
9. Old-Fashioned Mennonite Style Tapioca Pudding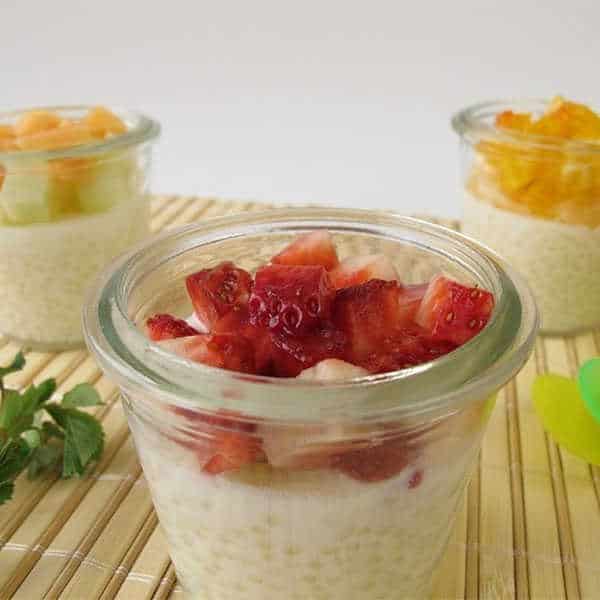 Prep time: 1 hour, Cook time: 30 minutes, Total time: 1 hour 30 minutes
Serves 3
INGREDIENTS
1/3 cup small pearl tapioca
3/4 cups milk
2 eggs
1/4 teaspoon salt
2 1/4 cups milk
1/3 cup sugar, or honey
1 teaspoon vanilla extract
INSTRUCTIONS
Soak the tapioca in milk overnight.
Add eggs, salt, milk and sugar.
Stir constantly and cook on low heat.
Heat should be extremely low. Constantly keep stirring it so it doesn't stick to bottom. Let it simmer.
Make sure it doesn't get scorched.
Tapioca beads should be translucent and tender.
When the custard thickens, remove it from the heat.
Add in vanilla extract, and pour into serving dishes. Let cool.
Nutrition
Calories: 257kcal, Total Fat: 6g, Saturated Fat: 3g, Trans Fat: 0g, Unsaturated Fat: 3g, Cholesterol: 108mg, Sodium: 64mg
10. Apple and Herb Roasted Turkey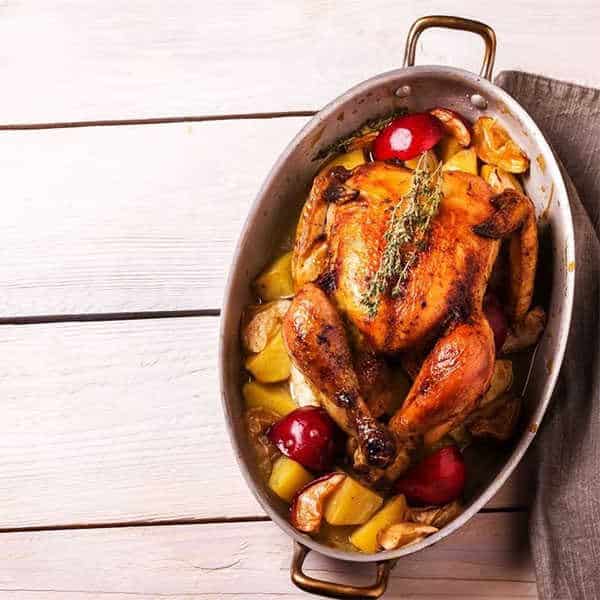 Prep time: 20 min, Cook time: 3 hours; Serving 14
INGREDIENTS
1/4 cup fresh sage minced
1/4 cup minced fresh rosemary
1 – 14 lb turkey
1 apple, cut into quarters
1 onion, sliced into halved
1 halved celery rib
1/2 cup melted butter
1/2 cup warm apple jelly
INSTRUCTIONS
Rub the rosemary and sage under the turkey skin.
Place the breasts upside on a rack in a roasting pan.
Stuff turkey with apple, onion and celery.
Brush with butter.
Bake at 325° for 3-3.5 hours.
Cover with foil if the turkey starts turning brown.
Make sure to brush it with apple jelly first.
Cover and let it rest for 15 minutes.
Nutrition
Calories: 626 Kcal, Fat: 31g, Saturated Fat: 11g, Cholesterol: 262mg, Sodium: 222mg, Carbohydrate: 10g, Sugars: 9g, Fiber: 0, Protein: 72g
11. Mom's Roast Beef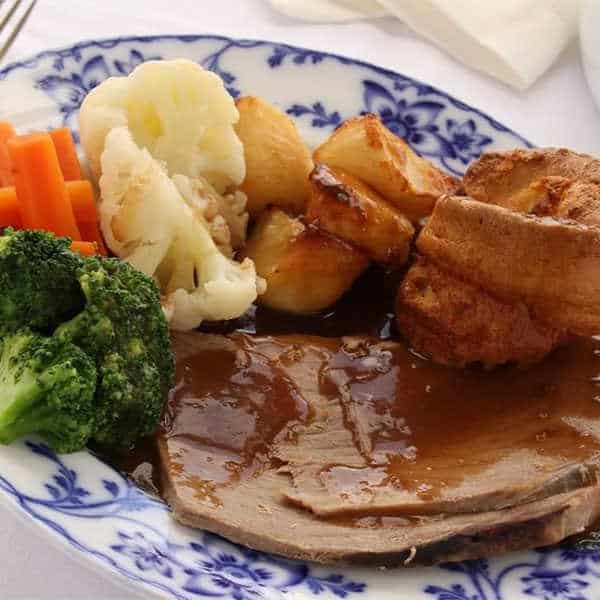 Prep time: 20 min, Cook time: 2-1/2 hours + standing; Servings 8
INGREDIENTS
1 tablespoon canola oil
1 beef eye round roast (about 2.5 pounds)
1 garlic clove
2 teaspoons dried basil
1 teaspoon salt
1 teaspoon dried rosemary
1/2 teaspoon pepper
1 medium chopped onion
1 teaspoon beef bouillon granules
1 cup brewed coffee
3/4 cups water
GRAVY
1/4 cup all-purpose flour
1/4 cup cold water
INSTRUCTIONS
In an oven, heat oil over medium heat; brown roast on all sides. Remove from pan.
Mix garlic and seasonings.
Sprinkle over roast.
Add onion to same pan. Cook on medium heat until the meat is tender in bouillon, then add coffee and 3/4 cups water. Bring to a boil. Reduce heat and simmer. Cover now until the meat is tender.
Cook for about 2.5 hours.
Remove the roast from the pan. Reserve the cooking juice.
Mix the flour and cold water until smooth. Stir in the cooking juices. Bring to a boil and keep stirring constantly.
Cook and stir until thickened.
Serve with roast.
Nutrition
Calories: 198 Kcal, Fat: 6g (2g saturated fat), Cholesterol: 65mg, Sodium: 453mg, Carbohydrate: 5g, Sugars: 1g, Fiber: 1g, Protein: 28g.
12. Lip Smackin Chicken BBQ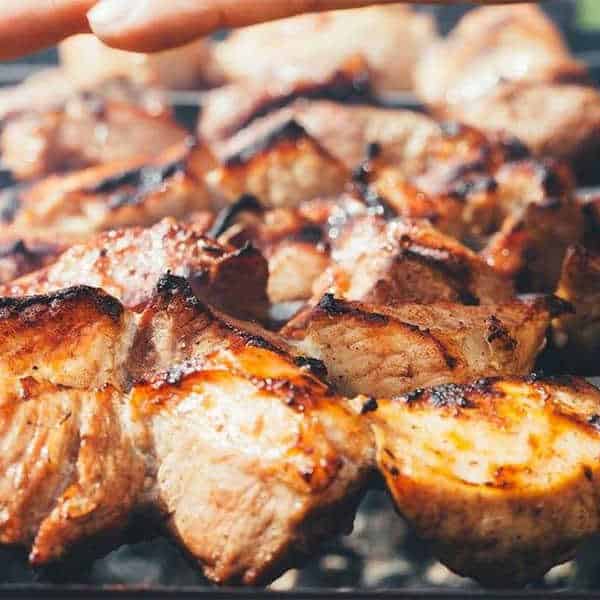 Prep Time: 1-1/4 hours, Grill time: 25 min; Servings 12
INGREDIENTS
2 cups ketchup
1 cup cider vinegar
1 cup water
0.25 cups packed brown sugar
0.25 cups reduced-sodium soy sauce
0.25 cup molasses
0.25cup honey
2 tablespoons prepared mustard
3 teaspoons ground cumin
1/4 teaspoon salt
1/4 teaspoon pepper
6 lbs assorted bone-in chicken pieces
INSTRUCTIONS
In a large pan, combine all ingredients except chicken and bring to a boil.
Reduce heat. Simmer uncovered for about 1.5 hours.
Remove half of the sauce for brushing on the chicken.
Keep the remaining sauce for serving.
Grill chicken over medium heat 25-35 minutes or until juices run clear.
Turn it occasionally. Brush it with reserved sauce.
Serve with the remaining sauce.
Nutrition
Calories: 402 Kcal, Fat: 17g (5g saturated fat), Cholesterol: 104mg, Sodium: 871mg, Carbohydrate: 27g, Sugars: 26g, Fibre: 0, Protein: 34g
13. Grandma's Seafood Chowder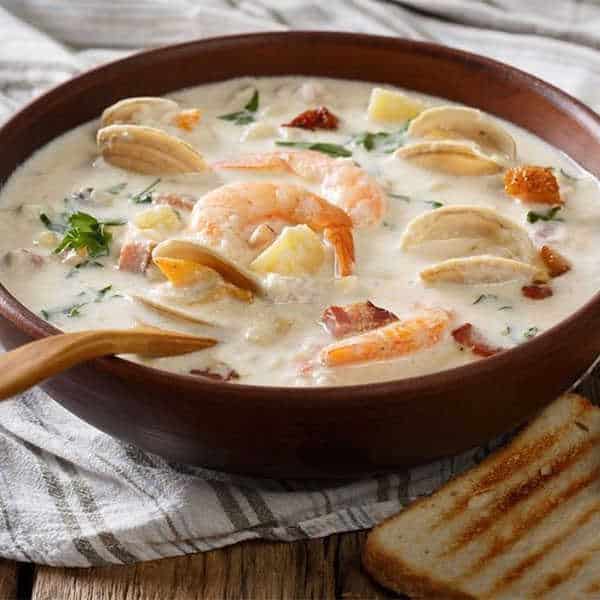 Prep time: 15 min, Cook time: 25 min; Servings 10
INGREDIENTS
3 tablespoons butter; plus 4 tablespoon butter (divided)
1 lb freshly sliced mushrooms
1/3 cup all-purpose flour
1 teaspoon salt
1/8 teaspoon pepper
4 cups half-and-half cream
1-1/2 cups 2% milk
1 lb haddock fillets(skin removed) cut into an inch pieces
1 lb uncooked medium shrimp(peeled and deveined)
10 ounces frozen peas
3/4 cup shredded cheddar cheese
5 ounces lump crabmeat
4 ounces diced pimientos
1 teaspoon paprika
INSTRUCTIONS
In a pot, heat 3 tablespoons of butter over medium-high heat.
Cook and stir in the mushrooms until tender. Remove from the pot.
In the same pot, heat 4 tablespoons of butter over medium heat.
Stir in the flour, salt and pepper until smooth.
Whisk in cream and milk gradually. Constantly stir it until it thickens.
Add in the haddock, shrimp, peas and sautéed mushrooms.
Cook till fish begins to be flaky. Shrimp should start to be pink. Add cheese, crab and pimientos.
Stir it gently until cheese is melted.
Sprinkle servings with paprika.
Nutrition
Calories: 390kcal, Fat: 23g (14g saturated fat), Cholesterol: 176mg, Sodium: 596mg, Carbohydrate: 14g, Sugars: 8g, Fiber: 2g, Protein: 28g
14. Barley Risotto and Beef Stroganoff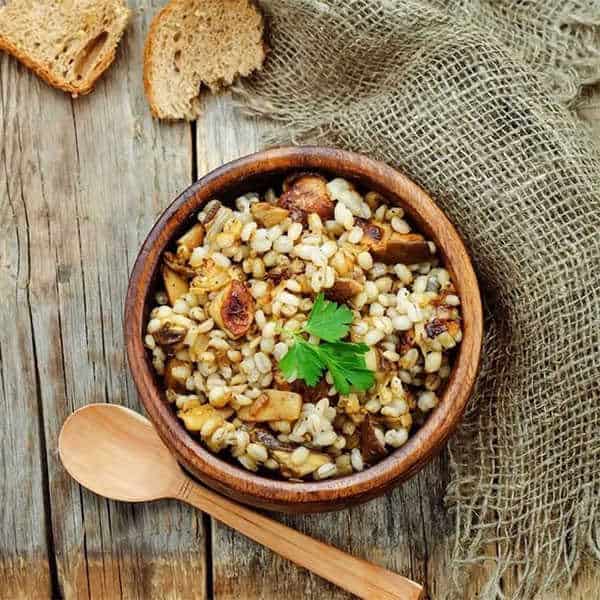 Prep time: 10 minutes, Cook time: 20 minutes; Servings 6
INGREDIENTS
1 tablespoon olive oil
2 lb beef sirloin steak
1/4 cup all-purpose flour
1 lbs egg noodles
1 sliced medium white onion
8 ounces sliced mushrooms
4 tablespoons salted butter
3 cups beef broth
2 tablespoons Worcestershire sauce
1 cup sour cream
1 tablespoon Dijon mustard
Salt and pepper according to taste
INSTRUCTIONS
Slice the beef into thin slices. Coat with flour and set aside.
Cook the egg noodles according to the directions on package.
Heat the olive oil in a skillet. On a medium heat, add in onions and mushrooms. Sautee it until tender. Remove from skillet. Set it aside for a while.
In the same skillet, melt butter over medium high heat. Add in steak slices and brown them.
Put sautéed onions and mushrooms to the skillet. Pour in beef broth and Worcestershire sauce. Bring it to simmer until it thickens to a desired consistency.
Stir in the sour cream and Dijon until it mixes.
Add egg noodles to the sauce. Stir to combine and serve hot.
Season with salt and pepper, to taste.
Nutrition
Calories: 694kcal, Carbohydrates: 63g, Protein: 49g, Fat: 27g, Saturated Fat: 13g, Cholesterol: 193mg, Sodium: 732mg, Potassium: 1035mg, Fiber: 3g, Sugar: 5g, Vitamin A: 522IU, Vitamin C: 3mg, Calcium: 122mg, Iron: 5mg
15. Beef with Peppers and Onions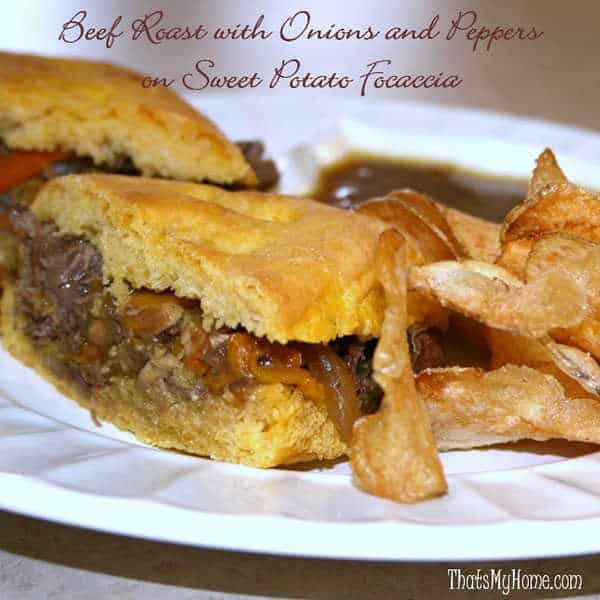 Prep time: 30 minutes, Cooking time: 30 minutes; Servings 6
INGREDIENTS
1 3/4 pounds high quality steak
1/4 cup soy sauce
2 tablespoons honey
Half medium onion, sliced
Half teaspoon sesame oil
Half bell pepper, sliced
1 tablespoon garlic, minced
1 tablespoon chili paste
2 tablespoons olive oil
INSTRUCTIONS
Cut your steak into small pieces.
Mix soy sauce, honey, chili paste, garlic and sesame oil.
Marinate the steak pieces in this mixture for 30 minutes at least.
Sauté the onions and bell peppers in olive oil on medium low heat.
Add in steak pieces.
Cook until browned and roasted perfectly.
Serve with rice or potatoes.
Nutrition
Calorie Count: 298, Total fat: 15.5g, Cholesterol: 69mg, Sodium: 115 mg, Carbohydrates: 13.2g, Protein: 26.2g
Conclusion
There you have it… These classic recipes are the finest delicacies, handed down from generation to generation of moms over the years. They can brighten up monotonous dinner routines a well as liven up your Thanksgiving and Christmases.
Go on… Try them out!
You will not be able resist making them over and over again.