Marinades are used to tenderize and flavor foods before cooking. Marinades can be used for muscle proteins or fruits and vegetables.
A marinade will usually consist of three components:
An acid or enzyme to tenderize the meat.
Salts, spices, and seasonings to add flavor.
An oil to moisturize and seal the meat.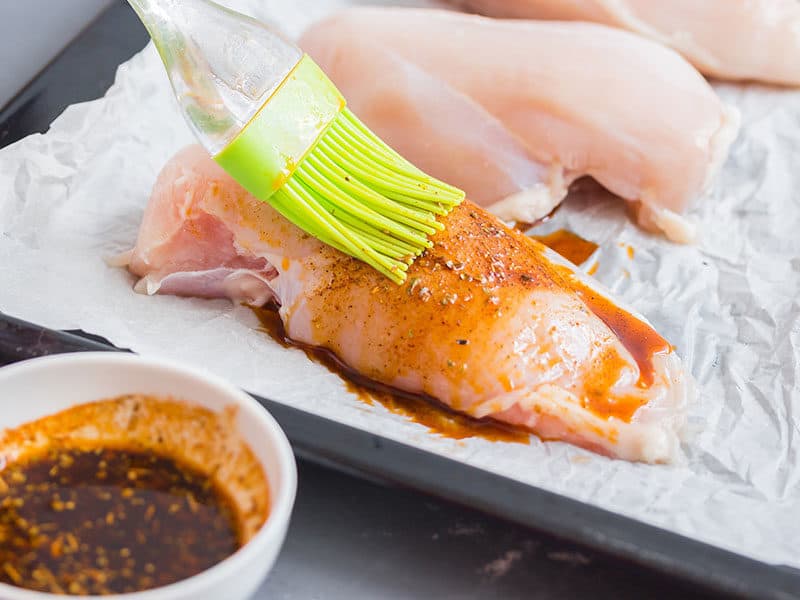 Marinating: Traditional and Vacuum Sealed
Traditional marinades take hours and sometimes days to slowly infuse flavor into a food. But with your vacuum sealer, you marinade meats in less than 30 minutes. The reason your vacuum sealer speeds up the marinade process is, as always, my favorite explanation- science. I don't know all the scientific details but I'll try to explain what I've learned.
Traditional Marinating Method
A regular marinade slowly works its flavors into the meat using chemical processes and osmosis. Like a brine solution, the ingredients in a marinade solution will work to tenderize and break down muscle proteins. Enzymes found in certain fruits and vegetables, such as pineapple or tomato, can act as a tenderizer.
Vinegar and wine will work as well. Buttermilk and yogurt aren't usually the first thing one thinks of to use as a marinade but they are quite effective for tenderizing meats. Once the meat's tissue barrier is broken down, liquid carrying the spices and seasonings can enter the outer layers of the meat.
The depth that the flavor is able to reach is affected by the strength of the acid used, the length of time the food is in the marinade, and the type of food being prepared. Taking extra steps to break up some of the muscle tissue or tenderize the meat before putting it in the marinade can allow the flavors to infuse more deeply.
Vacuum Sealed Marinating Method
When you marinate a food using vacuum sealing, the flavors of the marinade are more deeply infused. First, the meat and the marinade are placed in a food-grade vacuum sealer bag or container. You can review how to select your vacuum sealer bags here. Next, using the vacuum stage of your sealer, air is removed from the container.
This step pulls apart the meat's tissue and draws out the meat's natural juices. The next step is to release the vacuum pressure and allow the air to reenter the container. When the pressure is released, liquid returns into the meat, carrying with it the flavors of the marinade. As a final step, the vacuum pressure is resumed. The end result is a cut of meat that is deeply infused and then surrounded by sealed-in flavor.
How to Use Your Vacuum Sealer to Marinade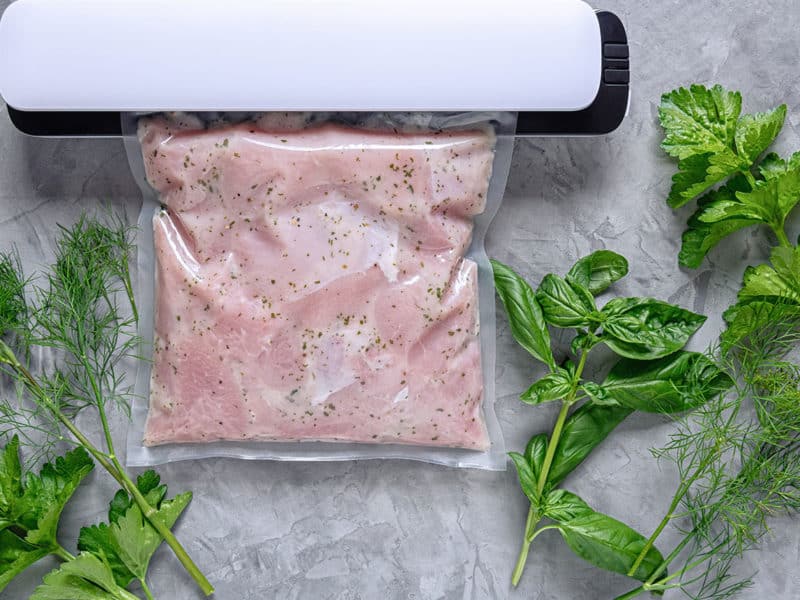 The method you employ to marinade with your vacuum sealer will depend on what type of sealer you own. I am going to describe the sealing methods for each type briefly. You will need to refer to your vacuum sealer's user manual for more details. Sometimes you can also find useful tips for your specific sealer on the manufacturer's website.
Channel Sealer
If you own a channel sealer that does not have an accessory port and hose, then you will need to seal your marinade in a vacuum bag. This is probably the most challenging method, as you must avoid allowing moisture to enter the sealer. To avoid liquid being suctioned into the bag during the process, make sure that the ends of the bag are pointed downward into the drip tray. You may also want to place a paper towel at the top of the bag, as discussed in this article.
You can also purchase liquid block bags that have a built-in moisture barrier. Please note, these methods are not guaranteed to keep moisture out of your machine and aren't intended for use with liquids. If liquid does enter your machine, it may stop functioning. A better option is to freeze your marinade and meat overnight and then seal it into the vacuum bag.
If you decide not to pre-freeze your marinade, another method you can use along with the moisture barrier in your bag is double bagging or packaging.  In this method, you place your meat and marinade in a disposable plastic container or bag and poke small holes in that container. Then place the entire container into your sealing bag. This will keep more of the marinade around your meat and less of it trying to escape into your vacuum sealer.
Handheld Sealer or Accessory Hose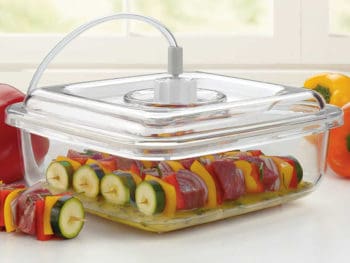 Whether stand alone or as an accessory to your channel sealer, the handheld sealer offers you greater flexibility when preparing your marinade. With the handheld sealer, you can use a specially designed marinade tray or canister, or a vacuum seal bag with valve opening. This set up allows you to take advantage of the power of gravity to keep your marinade at the bottom of the container while the air is removed from the top. You may still have some liquid try to escape, but much less. Food Saver makes a Quick Marinator designed to work directly with its accessory hose. Following the instructions provided with this device, you can marinade most meats in 15-20 minutes.
10 Tips for a Better Marinade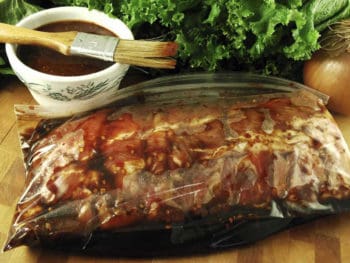 Now that you have a better understanding of how to use your vacuum sealer to marinate meats, here are some tips to help you make your food taste great.
After you make your marinade, reserve some to use for making a sauce or topping later.
Use a mechanical tenderizer to make small punctures in your meat before placing it in the marinade. This will break down some of the meat's muscle tissue.
Inject marinade deeper into the meat using an infuser or injector.
Cut your meat into smaller pieces before marinating to allow the flavors to reach more of the meat's surface area.
Don't use a warm If you have heated your marinade ingredients, cool them in a refrigerator before adding them to the meat.
Never re-use meat marinade to prepare toppings or sauces.
Make sure you add enough marinade to fully cover the meat.
Leave one inch of clearance between your marinade and the top of your vacuum seal container or bag.
Don't over marinade delicate meats, particularly seafood. Experiment with flavors and marinade times on a small serving before cooking in large batches.
When cooking your meat, sear it to seal in the flavors then finish with your preferred cooking method. Add a small amount of sugar in your marinade to create a flavorful crust with your sear.
I hope this article has inspired you to use your vacuum sealer to create some great marinated meals. Enjoy!