Vacuum sealers can be used in myriad different ways.
Whether you own a simple handheld version or a more expensive and durable counter top model, your vacuum sealer can be put to multiple uses.
Most of us are time-poor in today's hectic world. We lead extremely busy lives but that's no reason at all for our diet to suffer. One pioneering method of changing the way we prepare and store food is the vacuum sealer.
Clearly, we cannot keep food fresh forever. However, using the correct machinery for the job we can definitely maximize its longevity.
There are many handy tricks such as sous-vide cooking and marinating for added flavor. (With sous-vide you simply seal your food in airtight bags and cook it in water for often very long periods.) One of the most effective approaches to using your vacuum sealer, though, is for long-term food storage.
Why Should We Vacuum Seal Food?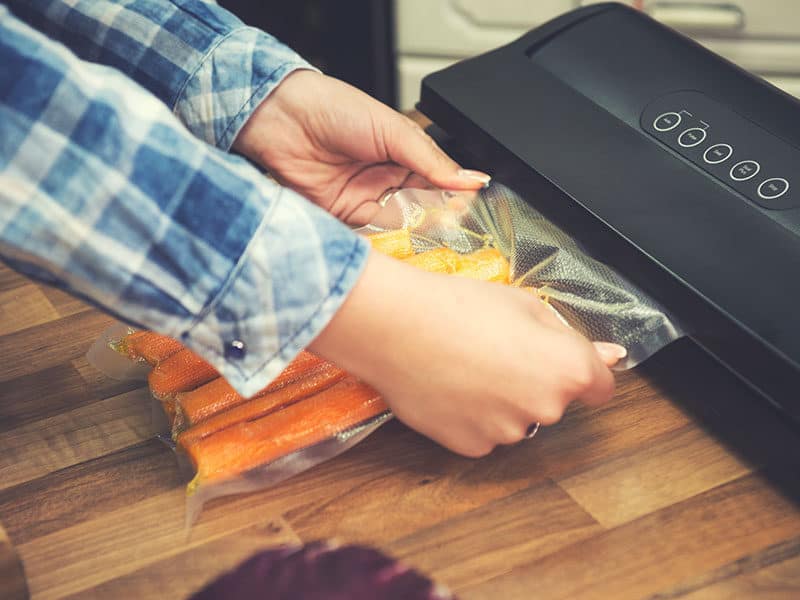 This kind of packaging is known as Reduced Oxygen Packaging (ROP).
With this procedure, food does not deteriorate anywhere near as quickly as normal. Essentially, a hermetic seal is fashioned similarly to that which takes place during canning. Frozen, dried or refrigerated foods all last much longer thanks to this seal.
This is achieved by a lowering of oxygen levels and the creation of an anaerobic environment being. These two factors work together to strictly limit the growth of fungi and bacteria while also minimizing evaporation.
Having taken care of oxygen, protected your food from both humidity and pests, you have eliminated three of the major problems with storing food.
Note: Vacuum sealing is not a substitute for the way in which canned foods are heat processed. It cannot replace the traditional storage of foods in the fridge or freezer. Think of vacuum sealing instead as an accompaniment. Use it in tandem with traditional processing and packaging techniques.
Tips For Long-Term Food Storage
Organization
Think ahead. As well as the obvious step of labeling the bags to show what's inside and when it was packed, take further measures. Snip the directions off the box or package and stick them on the vacuum-sealed bag.
Rather than using multiple small plastic containers, invest in a substantial bucket instead. The plastic will protect the food against light intruding. Keep in mind the enemies of humidity, heat and pests. Gamma Seal lids are a superb way to take preventative measures while also making the opening and closing of the lid simpler.
Stick to What You Know
This advice is simple but effective: focus on the foods that you usually like to eat.
As the maxim goes, you should eat what you store. You should store what you eat.
By all means try new ideas but focus on the staples that you most enjoy when storing food for the long-term.
Oxygen Absorbers
There is some debate over oxygen absorbers.
Some believe this step is unnecessary but there is little doubt that chucking in some oxygen absorbers will further prolong storage time.
When vacuum sealing, a small amount of air can get trapped between food grains. Adding oxygen absorbers removes this air and acts as protection against rogue natural elements.
You can learn more about them easily on That's My Home or from standard food stores.
Freezing
Avoid one of the main snags when putting vacuum-sealed packages into the freezer…
Commonly, liquid is sucked straight back up into your machine. The last thing you want is damage to your vacuum sealer so you have two main defenses:
Put the dish into the fridge until it becomes thicker.
Freeze the bags without sealing them. When the contents have solidified you will not experience leakage into the innards of your sealer.
10 of the Best Foods for Long-Term Vacuum Sealing
These foods are often packed in cardboard or flimsy plastic bags not designed for long-term storage. That does NOT mean the foods themselves will not last longer if stored in a better fashion.
Pasta
Rice
Beans
Dried fruit
Cornmeal
Breakfast cereal
Tea bags
Candy
Dried, instant milk
Nuts
What NOT to Vacuum Seal?
It's equally important to know what you should never attempt to store using this method.
Tomatoes
Mushrooms
Garlic
Soft cheese
These are very specific examples. More generally, many liquid or soft foods are really not the best choice for vacuum sealing. They bend out of shape easily. These foods are also at high risk of being sucked back into the vacuum-sealing machine.
We will look now at some of the advantages and disadvantages of choosing vacuum sealing for long-term food storage…
Pros
Economy
By using a vacuum sealer you can more than triple the storage life of foods.
Firstly you will benefit from foods having a well-maintained texture and appearance. Also, you can buy in bulk which will save you money. Divide the food into smaller servings and it's a win-win.
Combining Vacuum Sealing With Other Methods
Harness other storage methods alongside vacuum sealing so that you get the best of both worlds.
After sealing dry goods, consider popping them inside Mylar bags which are very heavy duty and lend an additional edge of protection. Pouches inside plastic buckets operate on the same principle. Cover all bases.
By storing vacuum-sealed bags in the freezer you can say goodbye to freezer burn. This means that food is not dehydrated after coming into direct contact with such cold air.
Space-Saving
By removing bulky packaging and using plastic bags instead, vacuum sealing affords you much more space to store food.
This added bonus means that you can stock a wider choice of food so you always have what you want at hand.
Reduction of Wastage
Vacuum sealing your food for the long-term protects you from food going bad in several ways.
You will not experience solid or dry foods hardening. Without being in contact with the air they will not take moisture onboard.
Moist produce will not become dry. Again, no air means no absorption.
Oily or high-fat foods will not go rancid. Once more, oxygen is the culprit so you can eliminate this problem too.
Dehydrated foods and herbs will last far longer when vacuum-sealed.
Cons
Bacteria
Pay very close attention when you are storing anything that is perishable.
The most serious drawback of vacuum sealing these kinds of foods is dangerous bacteria.
Oxygen
When you are thinking of storing long-term, remember that the bags are not 100% immune to air getting in.
Leakage can occur after two years. As well as oxygen penetrating the bags, insects and other pests can also gain access to the food.
Combat this by using the barrier method.
Sharp Edges
If you are storing anything bulky or foods with sharp corners, watch closely that these packages do not puncture the sealing bag.
Take care and reduce the risk of your food spoiling.
Conclusion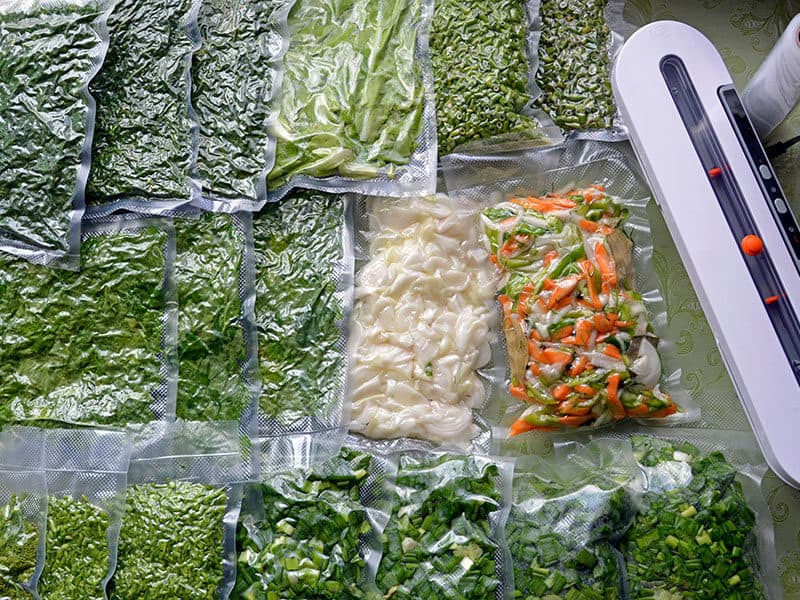 There is no doubt that vacuum sealing your food is a fantastic way to keep things fresher for longer.
You can enjoy a varied food pantry while also protecting your stored supplies.
The ability to use vacuum sealing in conjunction with other methods means that you can create a multi-barrier system of storage. This way you get added protection from natural elements which might otherwise harm your food
Do some research, invest in the equipment best suited to your needs. Pay attention to the dos and don'ts and take advantage of a revolutionary approach to long-term food storage with vacuum sealing.