Whenever you are working with a mechanical appliance, there is a chance of something going wrong. Vacuum sealers are no different. Sometimes the fix is simple; sometimes it is a little more complex. The best way to determine what has gone wrong for any appliance is to follow a step by step checklist. Start with the simplest, most obvious solutions and work toward the more difficult ones. This process serves you well for two reasons. First, the most obvious solutions are often the most common and can offer you a quick fix. Second, the simplest solutions are the ones you can implement yourself. If you have worked down your list of possibilities to the point where the fix is complicated or expensive, then you can decide if you want to continue working on your existing appliance or replace it.
In this article, I will take you step by step through troubleshooting malfunctions with your FoodSaver Vacuum Sealer. Some of the solutions may seem pretty easy and ones you could have thought of yourself. But that is the idea; we will start simple and work our way up. Hopefully, one of the initial easy fixes will be the one that works for you!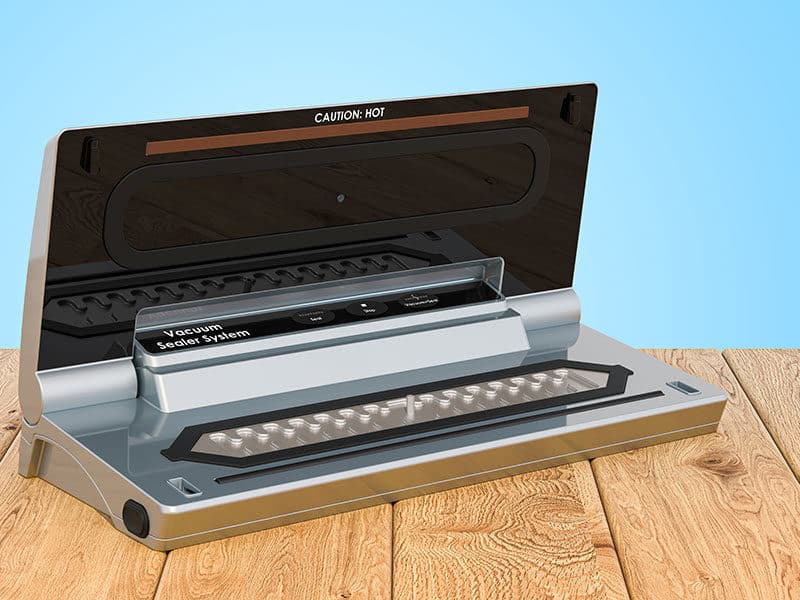 Work Your Way to a Solution
FoodSaver Vacuum Sealers are all based on the FoodSaver technology that involves a separate vacuum and sealing function. When evaluating a problem with your FoodSaver, you should take the same approach as you would with any appliance. I recommend that you work from the outside to the inside in a systematic fashion.
To fix your FoodSaver system, start with the power supply, then the materials that you are using. Finally, double check your own actions to make sure you haven't missed an important step. Here is my outside-in approach to appliance troubleshooting.
The Power Supply Checklist
Is the outlet receiving power?
Is the cord intact and attached to the appliance?
If the appliance works on a battery charge, is the battery fully charged and installed correctly?
Is the Outlet Receiving Power?
An appliance doesn't run without power. Have you ever tried to use your microwave or toaster only to be frustrated that it isn't working? Sometimes the machine has actually worn out. But I can't tell you the number of times I've been frustrated with the appliance only to find that the real problem is the power supply. In our house, if too many appliances are on the same circuit and running at once, a breaker will trigger and cut off power to some outlets. So if I plug in an appliance and it doesn't start running, the first thing I do is to check other appliance on the same circuit to see if they are getting power.
A single outlet can malfunction too. Sometimes switching to a different outlet solves my problem. Also, keep in mind that FoodSaver Vacuum Sealers feature polarized plugs; they must be plugged into the outlet correctly to work.
Is the Cord Intact and Attached to the Appliance?
If your FoodSaver sealer doesn't seem to be powered and the outlet is not the problem, check the vacuum sealer's cord. If your vacuum sealer's power cord has been crimped or pulled away from the appliance, this could be your problem. Maybe the cord was caught on something during storage or accidently pulled from the machine. I once had a pet cat who would chew on power cords. While he amazingly survived the experience, many of my appliances did not! If you have kept your vacuum sealer stored in an RV or cabin and only pull it out for occasional use- check inside and out for damage caused by mice.
Is the Battery of Your Portable Vacuum Sealer Fully Charged?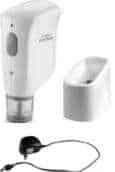 FoodSaver handheld vacuum sealers are really handy since you can take them almost anywhere. But they do need to have their power refreshed regularly.  Sometimes, when I think I am recharging my phone, I pick it up later to find it has no power at all. The problem is that if I don't place it just right, it sits on the charger but doesn't receive any power.  When plugging your FoodSaver handheld in for recharging, make sure that the adapter is fully connected and actually charging.
The Materials and Supplies Checklist
Are Your canisters, bags, and containers intact and in good condition?
Are you using textured bags?
Are Your Supplies in Good Condition?
Vacuum sealing depends on being able to remove all the air from a bag or container. If there are any holes, tears or cracks in your bag or canister, your vacuum sealer won't be able to work. Even a small hole is a big problem once the suction of your vacuum sealer engages. For every bit of air your sealer pulls out, fresh air will be pulled right back into the container.
If you can hear and see that your vacuum sealer is suctioning, yet your container does not appear to be losing air, begin a thorough inspection. For bags, check the bottom and side seams for splits. The seams along the side of your storage bag are intended to be sealed all the way to the edge if they are not this could be the source of your leak.  FoodSaver specifically recommends that you do not try to create side seams when making your own bags to avoid just this problem.
Also, check the body of the bag for holes. If the food placed in the bag had pointed or sharp edges it is possible that the bag was damaged while you were filling it. Your bags might have accidentally been cut or torn during storage or shipping as well. Wouldn't it be a relief to find out that the only thing wrong with your FoodSaver is a bad batch of storage bags!
If you are using a zipper bag with a handheld sealer, the zippered closure must be completely sealed for your vacuum system to properly work.
FoodSaver canisters and containers have a custom design to allow the FoodSaver accessory to attach and remove all air from the container. If you are not getting proper results, inspect not only the canister itself for cracks but also take a look at its vacuum valve. If your canister or container is sealing properly, you should see that the valve is indented when your vacuum sealer is removed.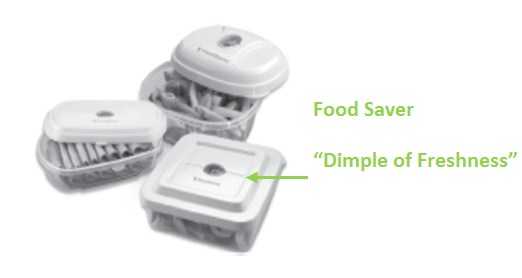 Are You Using Textured Bags?
If you recall from this article about choosing the right bag for use with your FoodSaver channel sealer, only specially designed bags will allow the proper vacuum action to take place when used with a vacuum sealing system. If your bag is completely smooth on both the top and bottom edges, then once your vacuum sealer is clamped down tight there will be no passageway for air to be pulled out. The tiny channels formed by the texture of the bags in essential to the proper functioning of your FoodSaver vacuum sealing system. So if you don't see that vacuum action, double check your supplies to make sure they are the real thing.
The Human-Machine Interface Checklist
Are you properly filling the container before attempting to seal?
Are you placing the bag or vacuum accessory correctly?
Are you selecting the correct function for the task?
Are you properly filling the container before attempting to seal?
This is where you begin to test the steps you have been following to see if you are doing them correctly. Canisters and containers require approximately one inch of room at the top after they have been filled. If your sealer doesn't seem to be working, be sure that you are leaving this gap when filling your containers. The valve for zipper bags or containers must be clean to seal well. Additionally, even though some canisters and containers are designed for use with liquids, zipper bags are not. Make sure you are selecting the correct container for the food that you want to store. You can refer to this article for tips on storing liquids and moist foods.
For channel system food storage bags, the bag's ends must be long enough to hang over the sealing strip of your vacuum sealer and into the vacuum chamber. Therefore, it is important that you leave enough room in your bag. You will need to leave three to five inches of room for this overhang, depending on the type of food that you are sealing. The reason for this extra length is that the bag starts sealing around your food some of this excess material will be needed. If your bag is too small, the ends will pull out of the vacuum chamber during sealing and air will be introduced. Just as with the other containers, you must make sure that there is no liquid or food residue on the edge of the bag that you wish to seal. Remember, you want to have only the bags tiny channels for air to pass through. Any other interference with these two surfaces pressing together will impede the vacuuming process.
Are you placing the bag or vacuum accessory correctly?
Proper placement of your storage bag in your vacuum sealer is essential to getting a good vacuum and seal. In fact, if you don't place your bag completely in the vacuum channel, you won't be suctioning out air at all and will just heat seal the bag. To get proper suction, both ends of the bag must be completely smooth.
Note: I have seen many experienced food sealer users write that placing the embossed or textured side of the bag on the bottom, against the sealer bar is best. FoodSaver indicates that the side that is on the bottom does not matter, but recommends that if the bag is curling, you place it so that the ends curl down over the sealing bar.
For containers, first check to see if the lid of your container is placed securely. If you are using the jar accessory to seal canning jars, you may need to remove the outer ring lid and just use the flat top when sealing the jar. Also, check the connection between your vacuum sealer and the container. Your FoodSaver will either come equipped with an attachment similar to the stand-alone handheld system or an accessory hose. If your system uses the accessory hose only, you will probably need to attach an adapter to use the vacuum sealer on canister and containers.  If you are trying to attach an adapter or hose to a container and not getting a tight seal, check the instructions for that particular container to see exactly what you need to use.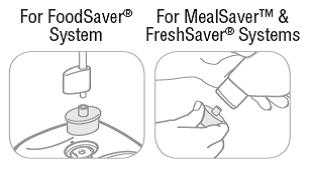 Are you selecting the correct function for the task?
Most modern FoodSaver systems offer you the option to vacuum seal or only heat seal a bag. The seal-only option is used to close packaged foods such as chips or cookies that you may not want to vacuum seal. The seal-only option is an easy short-term bag closure tool. But if you are pushing the seal-only button or accidentally hitting this button during the vacuum sealing process, then you aren't going to get a vacuum seal on your bag. Other vacuum sealers have additional buttons that allow you to cancel or interrupt the vacuum process, use pulse vacuuming for delicate foods, or marinade modes to seal marinades. To activate your vacuum sealer's accessory hose you may need to press a separate "accessory mode" button. If you don't get the results you want, read through the user manual for your specific FoodSaver to make sure there isn't some extra button or step that you are missing.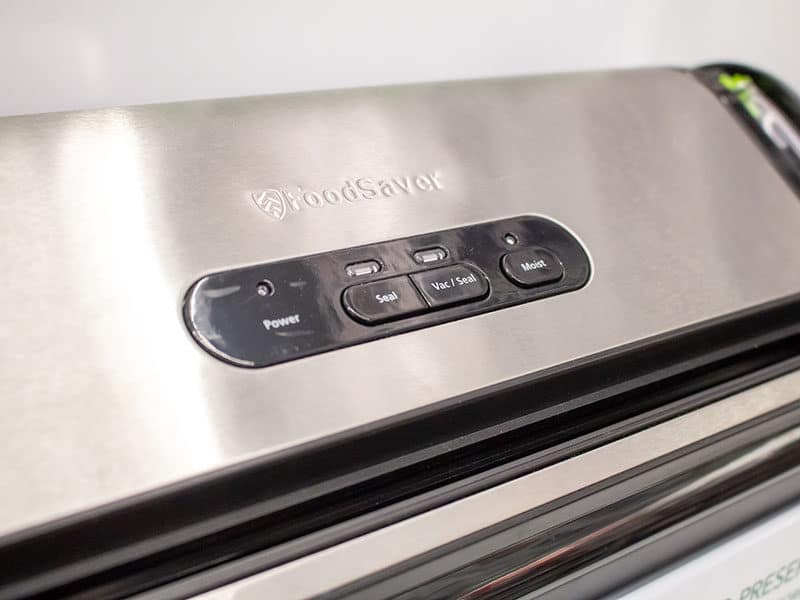 If you have made it this far and are still having trouble with your vacuum sealer, you may need to replace a part or dig deeper into your machine's inner workings. Because these steps are a little more complicated, I will have to cover them later. In the meantime, you can always visit foodsaver.com to read the instruction manual for your specific sealing system.