As we've discussed in the past, there are a lot of different vacuum sealers to choose from for your home food storage needs. There are also a wide variety of accessories and additional products that will either work with a single vacuum sealer brand or any brand. We've looked at some of these accessories in brief, but now it is time to get to work and learn how to get the most out of your vacuum sealing system. First, we'll take a look at the food storage bags used with the most common household vacuum sealer, the channel-type sealer. This type of vacuum sealer uses external suction to remove air from your food storage back.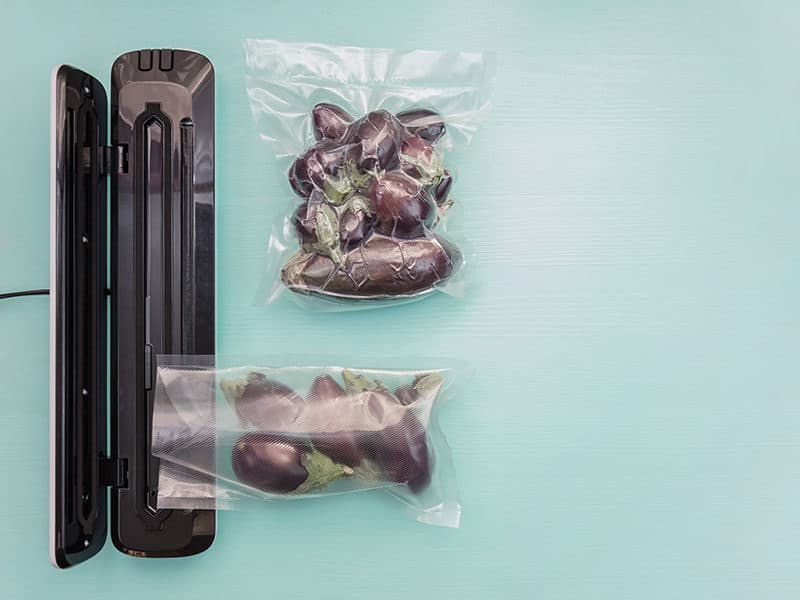 Choose the Right Size
Your vacuum sealer works by pulling all of the air out of the storage bag, then heat sealing the bag shut. In order to create the seal and not permit the re-entry of air, the entire end of the back must be clamped into the vacuum sealer. For this reason, you cannot use a bag that is wider than your vacuum sealer without making some modifications to the process. You'll find bag sizes listed by capacity or width. Common sizes are the pint, quart or gallon-sized bag and bags that are 8 to 15 inches wide. Rolls will be listed by width only, as you choose the ultimate length of the bag when you cut it from the roll. Take a look at your vacuum machine's specifications. Some machines will only handle quart or gallon sized bags while others provide more size options. If you are just getting started, you might want to purchase a multi-pack starter kit. This starter kit will allow you to experiment with different sizes and styles as you learn about your machine.
Choose the Right Type
Vacuum bags are textured or embossed on one or both of the interior surfaces. This texturing creates channels to funnel air out of the bag during the sealing process resulting in more oxygen removal and more tightly sealed food. When you place a bag into your channel-type vacuum sealer, such as the ones made by Food Saver, the sealing channel pinches the bag closed to prevent any additional air from entering the bag. Then, the vacuum system pulls the existing air out of the bag through the tiny channels created by the embossing of the bag's inner surface. These channels are essential to the vacuum process. Some manufacturers sell bags that are not channeled or embossed. To use these types of bags in a channel-type vacuum sealer system, a special strip of textured material must be added along the sealing line. It is best to make sure you are selecting textured bags for your vacuum sealing projects and avoid this extra hassle.
Choose Your Level of Convenience
Ready Made Bags
Vacuum bags are designed to either be used for food storage or household items. For safety reasons, you should not use bags that aren't designed for food storage to seal foods. You will want to check the label of any bags you plan to purchase to make sure they are safe for you intended use. Next you'll select the correct size bag for your machine and project. Select a bag that will hold your intended food item with just a little room at the top for sealing. Bulky or odd shaped items may need a larger bag than you expect, so plan ahead.
Bags On a Roll
As you've just learned, the Food Saver and many other sealing systems offer individually sized bags that can be pulled out one at a time from a dispenser. But most of these systems also work with bags that you create yourself from a roll of plastic. Purchasing sealing materials by the roll is cost effective because you use only the amount you need for each food item. Also, the starting materials usually cost less per unit than pre-made bags. The plastic on the roll is sealed on both sides so you only need to select your size and then seal the top and bottom of the bag. Your plastic food sealing roll may either be stored inside your sealing machine for convenience or kept in a separate dispenser. Here's how the built-in system works:
To prepare a custom sized bag for food storage using a built-in dispenser, you pull out a section from the roll in the size that you want and use the built-in cutter to cut that section off the roll.
Then you close the vacuum sealer, place one end of the roll into the system's automatic heat sealer and begin the sealing process.
If you do a lot of food or other packaging, you might consider a separate bag making system. Obviously, you need your vacuum sealer to handle the bags once you are sealing foods inside. But, to make your bags, a quality heat sealer will work. With both a vacuum sealer and a heat sealer, you can create more bags at one time and save wear on your vacuum sealer.
1. To set up a bag making system, select a roll dispenser such as this one by Bags-on-a-Roll.
Note: This dispenser does not come with a built-in cutting device.
I recommend you purchase a safe slide cutter or pair of scissors just for this task- then tie them to the frame of your dispenser so they don't get lost.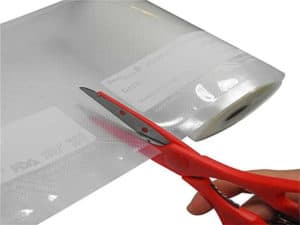 2. Next, purchase a roll of the plastic of your choice. Most selections are PBA-free, but you will want to check the composition just to be sure.
Also, review the bag's specifications to make sure it is safe for food if that is your end use for your bags.
Special sous vide bags are available for your best recipes.
3. Finally, decide if you will use your existing vacuum sealer to seal the ends of each bag you make, or a separate heat sealer.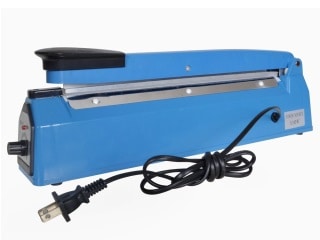 Most vacuum sealers can only seal a limited number of bags before needing to cool down.
Smaller systems will need to cool off after just 8 to 10 bags while systems like the Game Saver by Food Saver may last for up to 60 seals before getting too hot to handle.