A vacuum sealer is probably best classified as a small appliance. It is likely that you made the purchase or are contemplating making this purchase because of the convenience of preserving food. It works by using a vacuum to remove all the air out of a plastic bag so that the contents remain dry and safe. It can mean savings in terms of money and time. Even though its primary use is preserving and freezing foods, there are many other uses for a FoodSaver Vacuum Sealer.
Here Are Some Things You Can Do With a Vacuum Sealer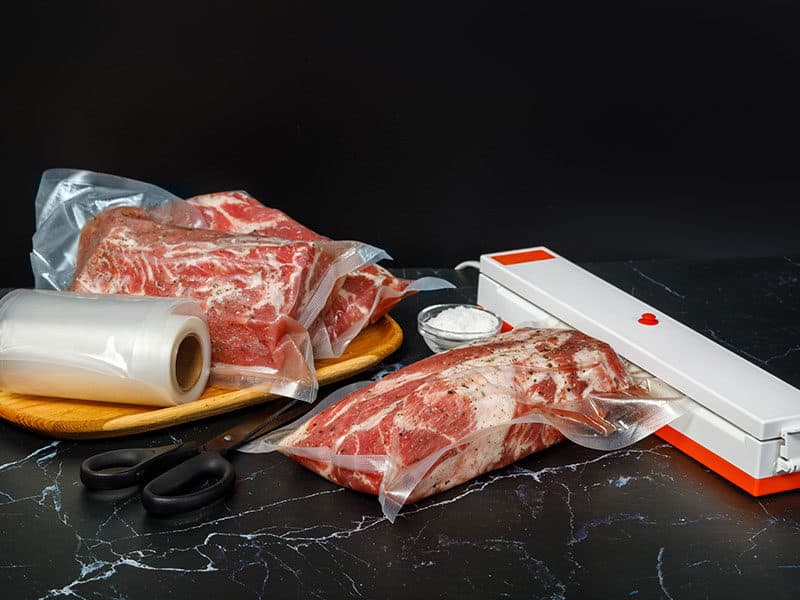 Reseal Chip Bags, Mylar Bags and Cracker Bags

Chip clips have never worked to keep bags closed and prevent them from going stale. Sometimes they've even spilled all over the pantry. They just are not adequate to preserve chips and crackers. A vacuum sealer can be used to reseal chips, crackers and even mylar bags. Mylar bags are used a lot when you buy spices or herbs in bulk quantities. You can keep these types of items fresher for a longer period of time by resealing them with a vacuum sealer.
Protect Items from Corrosion

Some items tend to tarnish when they are exposed to air for long periods of time. By sealing them in an air tight bag using the vacuum sealer, you can keep things like jewelry, ammunition or other metal items from corroding. If you want to protect your silver right after you shine it up, wrap it in a soft cloth and then seal it with the sealer. However, if you want to protect ammunition – don't use the vacuum function, just use the sealing function.
Home Made First Aid Kits

It's very handy and smart to keep a first aid kit on hand for minor injuries. It's also good to have items like band aids, anti-biotic ointment, cream, and medical tape on hand. Now you can keep these items in an air tight bag so they don't get wet and can have a much longer shelf life.
Home Made MREs for Emergencies

Emergencies are not planned and it is useful to have a few food items on hand for unexpected situations. You can put foods like dried fruit, nuts, gum or other small items in a sealed bag to be preserved for those situations you just didn't know were coming. You may also include crackers or small cans of meat like tuna and seal it with a plastic spoon and napkin so you have a meal that is ready to eat if you need it. Another option might be individual packages of peanut butter and crackers with some dried fruit and a plastic knife to spread the peanut butter. Homemade MREs are customizable and made to eat.
Reseal Bottles of Wine, Vinegar or Oil

After the seal is broken on these liquids their shelf life drops drastically, especially for wines. The vacuum sealer can be used to reseal them by purchasing some FoodSaver bottle stoppers. They are sold in 3 packs so you can seal more than one bottle containing liquids.
Water Sports Protection

If you like to participate in water sports, a vacuum sealer can be your new best friend. Whether you are paddling around in a canoe or kayaking down the river, you will need waterproof containers to take with you and the vacuum sealer can provide the perfect solution. Air tight plastic bags can help protect items from getting wet and when they are vacuum sealed water will not be able to permeate the package and ruin your items.
Camping Supplies

A vacuum sealer can be useful on your camping trips. You can package dried foods so they stay fresh and secure but you can also seal up other essentials to prevent them from being destroyed by being out in nature. You can store emergency supplies including a first aid kit or necessary items like matches that you need to keep dry until you need them.
Storing Craft Supplies

You can extend the shelf life of various craft supplies while keeping them organized for later use by storing them in vacuum sealer bags. You can keep paints, markers and glue safe and sound in a vacuum sealed environment. They can also be used to store loose items used for making crafts. Think about using it for holding moldable dough or clay as well.
Organize Home Repair Items

Do you have difficulty organizing items like extension cords or home repair tools? Vacuum sealer bags can be helpful to get it all organized. You can store various supplies like tape, paint brushes, extension cords or various other items to keep them dry and organized. It'll be easier to find the items when you are ready to use them and they'll be stored in air tight containers to keep them dry and ready for you to use.
Seal Mason Jars

Most vacuum sealers have an available attachment that can be used to seal mason jars. There are lots of different thing that can be sealed in jars using the attachment. Seal bulk spices, dehydrated foods, chocolate chips, crackers or any variety of dried goods in jars for later use.
Clothing and Bedding

By investing in larger sized bags you can store a variety of household items that you may not need for some seasons. For instance, you can vacuum seal your favorite winter sweaters for storage during the summer months, or you can seal you bedding that you won't need until cooler weather.
Important Documents and Photos

Important documents that you want to make sure are preserved can be safe in vacuum sealed bags. They will be safe from moisture or water damage. You can also preserve photos in the same way. If you are moving or going on a trip you can also package books in a vacuum sealed bag to keep them safe from moisture and ready for you to read while you're away.
Conclusion
As you can see, there are many uses for the FoodSaver Vacuum Sealer that goes beyond food preservation. These additional ways to use the vacuum sealer makes it that much more of a valuable investment than many realize.