Are tamales gluten-free? Gluten-intolerant eaters might struggle to find a clear answer so that they can freely enjoy the taste of this well-known food.
Tamales are a traditional dish of Mexico. They are made from simple yet filling ingredients and well-wrapped in corn husks, together with delicious sauces and toppings.
As far as I know, how tamales are made decides if they are gluten-free or not. Therefore, I suggest you zoom into the recipe and find out which ingredients are safe for gluten-sensitive people and which ones are not.
From that point of view, I'll guide you through a step-by-step journey to finally get the answer you may satisfy. Let's start!
Where To Begin?
Have you ever eaten a tamale? Tamales are considered as to-go Mexican street food. Let's discover everything you need to know about this staple before answering your main question.
What Is A Tamale?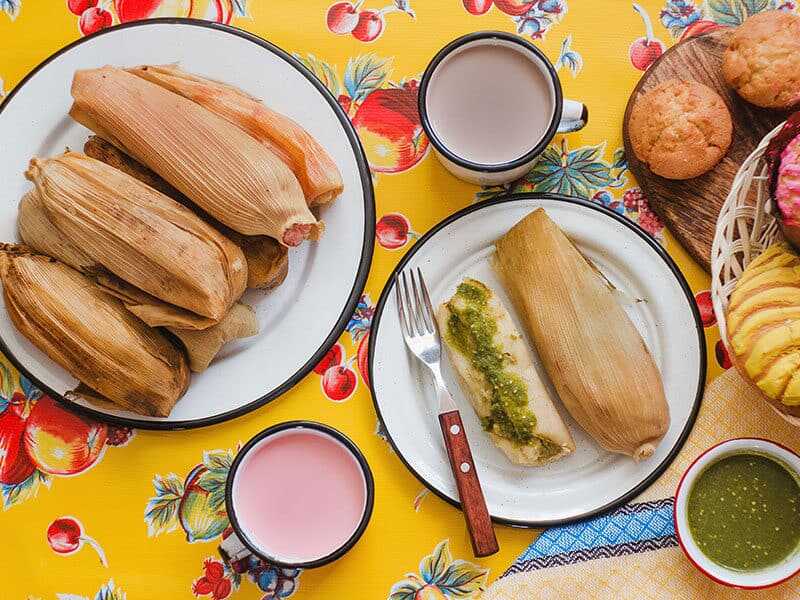 Tamales are often served hot and fresh from the pot. Typically, Mexican tamales consist of three main parts:
Masa: Masa is a dough made from masa harina. Masa harina is a flour made from ground corn that has been cooked and soaked in limewater. You can choose both white and yellow masa harina to cook tamales. The flavor is just slightly different. White masa harina seems to be a bit sweeter than the yellow one.
Filling: In Mexico, they also made tamales without filling, only masa. Typically, tamales are filled with many types of meats, vegetables, beans, and cheese. Sometimes, like desserts, they are made with fruits, nuts, and sugar.
Wrapper: You can use corn husks, banana leaves, plantain leaves or any fresh and tender leaf around your place.
Essential Ingredients For Making Tamales
Dried Corn Husks
Dried corn husks are the most popular wrapper for tamales. You can easily find them in your local grocery stores. If husks appear a bit smaller than you expect, you can use two or three husks at the same time to cover the entire filling. Shredded husks can become a string to tie the tamale.
Masa Dough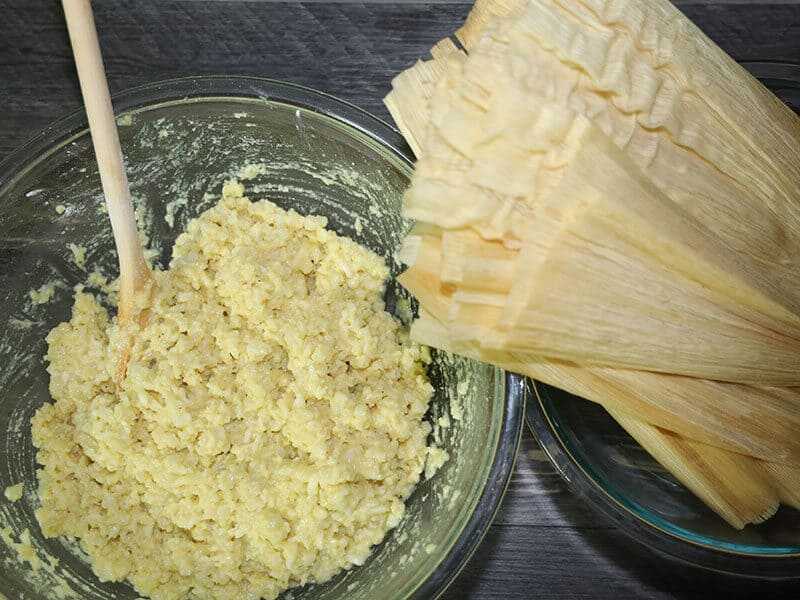 The masa dough is quite like bread dough. The only difference is that the masa dough is derived from corn instead of wheat.
To start, you might need masa harina, baking powder, seasoning, and ground cumin. Lard or oil is essential to make the dough less sticky and adds flavor to the dish.
Finally, veggie, chicken, beef or pork broth will be needed.
Filling
When it comes to filling, you can feel free to add any meat, veggie, cheese to your liking. Even leftover food will do.
To be more specific, you might want to try ground beef, shredded chicken, or pork.
For a vegetarian option, let's go for cheese, pinto or black beans, sweet potatoes, cauliflower, onions, squash, mushrooms, carrots, bell peppers, and more.
Sauce
The sauce can significantly enhance the dish, so it would be best to add extra spice to your fillings. If you're not familiar with making sauce, I highly recommend that you shop for store-bought salsa. You can look for enchilada sauce, red salsa, green salsa, or mole sauce.
If you prefer barbacoa or carnitas for the tamale filling, you might not need to add any sauce because the taste is already rich and flavorful.
Toppings
Traditionally, tamales are served with red chili sauce. People also love to enjoy them with sour cream, ranchero sauce, guacamole, red or green salsa. Sometimes, it might be more interesting if you add some toppings like fruits and herbs.
If you're looking for a recipe to make red chili sauce, take a glance at the following video:
Are Tamales Gluten-Free?
Zoom Into Homemade And Store-Bought Tamales Ingredients
Homemade Tamales
There is a way you can reduce your risk of exposure to gluten is that you cook tamales at home.
Some masa harina brands are mixed with wheat flour. For this reason, go for certified gluten-free masa harina products or pure masa harina so that you can make gluten-free masa dough.
Fillings or sauces are up to your choice. You can refer to my following list to avoid gluten-containing ingredients for your tamales.
Gluten-free meats: beef, pork, chicken. Ground meats should be double-check to ensure they don't contain any gluten.
Gluten-free fruits and vegetables: bananas, peaches, oranges, cauliflower, broccoli, potatoes, squash, mushrooms, onions, carrots, bell peppers, sweet potatoes.
Gluten-free legumes: black beans, pinto beans.
Gluten-free dairy: sour cream, cheese (like mozzarella or Muenster).
Usually, salsa doesn't contain gluten, but if you're too sensitive to gluten, check the ingredient label to know for sure.
Corn husks, banana leaves, or plantain leaves are definitely gluten-free.
Store-Bought Tamales
Premade tamales, without gluten-free stamps on the package, are likely to contain gluten. That's why gluten-sensitive people should make tamales at home or choose brands that have gone the extra mile to earn a certification as a gluten-free product.
Although these items might cost a bit higher, they worth your money because you can enjoy your tamales without worrying about affecting your health.
How Gluten Gets Into Tamales
Most tamales ingredients are naturally gluten-free. Due to manufacturing practices, storage and transportation, they can become gluten-containing elements.
Below are some everyday situations that cause your tamale ingredients to come into contact with gluten
Cross Contamination
In the field:
Corns are grown next to the wheatfield
In the manufacturer:
Shared facilities or equipment with wheat products
Corns are transported in the same vehicles with wheat
In the kitchen:
Cross-contamination might cause by kitchenware. Therefore, it would be helpful if you store your gluten-free utensils and cookware in a separate area in the kitchen and tell people in your house beforehand.
Preservatives /Additives
Pay attention to the following additives and preservatives which might appear in the ingredient label because they could be a reason why gluten gets into your tamales:
Monosodium glutamate
Emulsifier
Food starch
Vegetable gum
Seitan
Hydrolyzed plant protein
Hydrolyzed wheat protein
Hydrolyzed vegetable protein
Textured vegetable protein
Maltodextrin
Hydrogenated starch hydroxylate
Dextrin
Smoke flavor, artificial flavor, and natural flavor
Food coloring
Gluten-Free Homemade Tamales
Let's discover a delicious yet simple gluten-free homemade tamale recipe!
What You'll Need:
Wrapper:
Masa Dough:
3 cups of gluten-free masa harina
1 cup of pure lard
2 1/2 cups of gluten-free low-sodium broth (chicken, beef, pork or veggie broth)
1 1/2 teaspoons salt
1 tablespoon of ground cumin
1 1/2 tablespoons chili powder
1 1/2 tablespoons onion powder
Filling:
2 pounds of shredded meat
4 large cloves of garlic
1/4 to 1/2 cups chopped cilantro
1 can of diced tomatoes
2 large fresh jalapenos
1/2 teaspoon sea salt
1 tablespoon olive oil
2 tablespoons of gluten-free low-sodium broth
Instruction:
Step 1: Soak the husk overnight; or if you're in a hurry, emerge them in hot water for several hours before using.
Step 2: Combine masa harina, onion powder, chili powder, ground cumin, and salt into a food processor, and beat until the mixture becomes fluffy.
Step 3:  Pour 2 ½ cups of broth into the mixing bowl, and continue to stir.
Step 4:  Beat the lard at medium-high speed for about 1 minute, then slowly add fat to the masa dough.
Step 5: Work the dough until it appears well-blended. Add more masa harina or broth till you feel happy with the nice texture of your homemade masa dough.
Step 6: Clean the husk and dry them completely.
Step 7: Next, you start to prepare tamales filling by cooking the meat of your choice and other ingredients such as diced tomatoes, diced jalapenos, chopped cilantro, and spices. I suggest you stir-fry them in a large skillet and let them cool down.
Step 8: Prepare the masa dough ball and use the tortilla press to make it flat, then place it on the husk.
Step 9: Spoon a fair amount of filling to the center of the dough.
Step 10: Slowly fold the masa dough to cover the filling.
Step 11: Place finished tamales into the electric steamer and turn on the appliance for 1 hour. You can also use a traditional Chinese bamboo steamer. I've tried, and tamales turn out delicious.
Step 12: Allow them to cool down in about 20 minutes before serving.
Step 13: Add your favorite sauce and toppings and enjoy your gluten-free homemade tamales.
You can learn how to wrap tamales in the following video:
Additional Tips For Gluten-Free Diet
For a celiac-safe diet, you might keep in mind some of the practical tips I mention below:
Only buy pure masa harina for masa dough.
Always consult the food label before buying.
Replace gluten-containing ingredients with gluten-free ones.
It's a safe bet that there are still many gluten-free grains, fruits, vegetables, and proteins out there.
Some people love to have hot tamales with a beer. Remember that beer is not gluten-free.
Tips To Avoid Gluten Cross-Contamination
If you're sensitive to gluten, you might want to establish some good practices around your home to protect yourself:
Use separate utensils and cookware for cooking gluten-free foods.
Clean all the surfaces thoroughly after preparing gluten-containing ingredients.
I highly recommend that you use metal utensils instead of wood ones.
Store gluten-free foods and other products in different cabinet compartments.
Use a separate toaster for gluten-free bread.
Also, use a separate waffle maker.
Don't forget to wash hands carefully before preparing gluten-free foods.
Frequently Asked Questions
Now let's look at some common questions about tamales and clear all your doubts about this traditional dish
Can I use parchment paper instead of corn husks for tamales?
Yes, you can. Parchment paper helps you retain more moisture in the tamale than dried corn husk.
Are green corn tamales gluten-free?
Yes, they are, most of the time. It's still essential to look for a gluten-free label on the package of each product you're going to use for this dish.
Is masa for tortillas the same as masa for tamales?
Masa for tortillas doesn't contain lards while masa for tamales has it. Prepared masa for tamales is often well-seasoned with spices.
Is cornmeal the same as masa?
No, it isn't. Corn for masa is treated with alkaline and has a distinct flavor compared to cornmeal.
What is the best lard for tamales?
It might be a good idea to choose pork back lard for tamales due to its mild flavor.
Can you use butter instead of lard in tamales?
Yes, you can. Butter is also gluten-free. There are also many other options such as canola oil, avocado oil, and coconut oil.
Do corn husks for tamales go bad?
Dried husks might last for years if you store them properly. To get them ready for tamales, you should soak the husk overnight and dry them thoroughly the next day.
How long do tamales last?
Uncooked tamales shouldn't stay at room temperature for more than one hour. If you place them in the fridge, cook them in 7 days; otherwise, the batch will go bad
Can you put enchilada sauce on tamales?
Yes, of course. Both store-bought and homemade enchilada is perfect for traditional tamales
Are Tamales Gluten-Free – The Truth
Yes, they are as long as you're careful enough to choose the right ingredients for your tamales. It's important to point out that tamales are made mostly from corn. Therefore, you surely need to use pure masa harina for a gluten-free option.
Some people intend to shop for premade tamales or order them from nearby restaurants. This way, you can increase the chance of exposure to gluten because you don't know what is included in your dish.
In my opinion, if gluten is your concern, I highly recommend that you spend time making them at home.