Discover what does sushi taste like and decide if you want to book a spot in a Japanese restaurant as soon as possible, or you can try something less weird such as Ramen!
Sushi is a globally popular Japanese food, with raw fish as the primary ingredient. Most people find eating pieces of raw fish daunting, but Japanese and numerous people love it. If you have managed to resist the global trends and don't try sushi yet, this article will help you decide whether the time has come.
You will find out more about sushi – main ingredients, types, what it is served with, and how to eat it. You will become a sushi expert in no time, even if you decide not to try it!
What Is Sushi?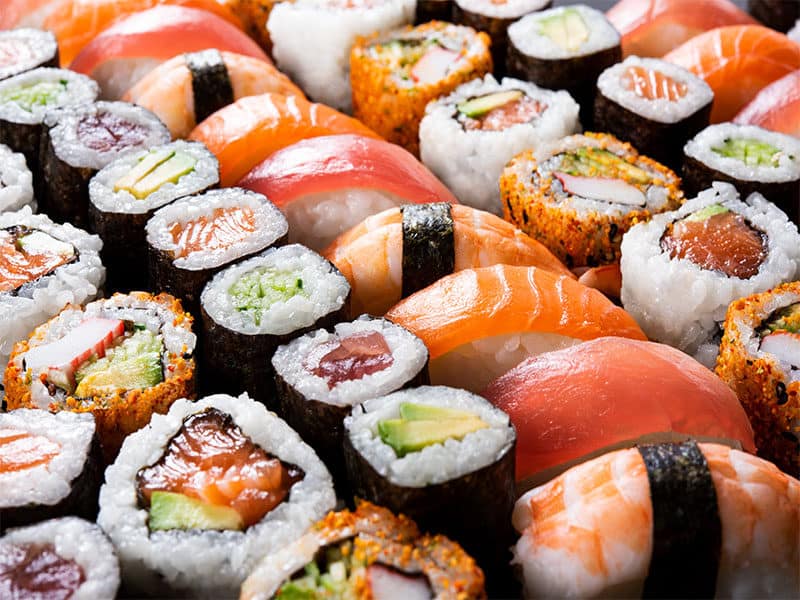 Sushi is a globally accepted traditional Japanese dish. The main ingredients are pieces of raw fish rolled in vinegared rice and mixed with other ingredients. Vinegared rice is called shari or sumeshi and requires specific preparation to hold the shape. However, sushi can be prepared without fish. In vegan variants, chefs use veggies.
While sushi can be prepared without raw fish, it cannot be imagined without rice. Most commonly, sushi chefs use medium-grain white rice. But there are some variations with short-grain or whole-grain brown rice for healthier alternatives.
Sushi is served cold and most commonly features vegetables or fruits, such as mango or peach.
You shouldn't mix sushi with sashimi, another traditional Japanese dish, which is basically slices of raw meat or fish.
There are numerous types of sushi, and the number of calories per serving depends on the ingredients used. There are some low-calorie options with fresh vegetables, but also types with fried ingredients.
On average, one sushi serving includes six rolls, which have more than 200 calories total.
Therefore, it can be a well-rounded and healthy meal, suitable for people looking to lose weight.
What Does Sushi Taste Like?
Despite its most common ingredient – raw fish, sushi doesn't have a dominant fish flavor. The vinegared rice gives the sushi its recognizable tangy flavor, and other ingredients complement it, making a harmony of fresh and mild flavors.
For example, the most common fish used for sushi is salmon, tuna, or eel, which are all known for their mild tastes. When you add fresh, juicy vegetables such as mango, you get an almost neutral dish with a pinch of tropical taste.
Sushi is accompanied by soy sauce. When you dip the bite in the soy sauce, mild and neutral sushi gets a layer of salty and sweet taste.
Neutral rice taste allows numerous options for mixing ingredients and preparing processes. Some chefs use rice cookers to get the perfect texture, while others prepare the rice on the stove, boiling it in the pot.
Because ingredients are often used raw, each ingredient holds its individual taste, giving the sushi bite a pleasant and unique flavor when prepared.
Watch this video to know more….
Sushi Types
There are so many types of sushi, and as a beginner, you might be confused, especially when reading the sushi menu for the first time.
I will cover the five main sushi types, found in most restaurants.
Maki
Maki is the most common sushi type available around the world in sushi bars and restaurants. Rice and primary ingredients – fish or vegetables, or both are rolled in seaweed. Maki rolls are the size of a bite and easy to eat.
Maki is available with numerous fillings. .If you have never tried sushi, maki rolls are an excellent start.
The most common fillings for maki are:
Salmon
Tuna
Avocado
Crabs
Cucumber
Octopus.
Nigiri
Nigiri highlights the taste of raw fish the most from sushi types. The primary difference between nigiri and other types is the preparation process. Nigiri isn't a roll, it is more of a bite with layers of filling and rice.
It can be spicy when the chefs add wasabi between two layers.
Still, not all nigiri bites feature raw fish. There are various fish combinations used for nigiri, which makes it a great source of Omega-3 fatty acids.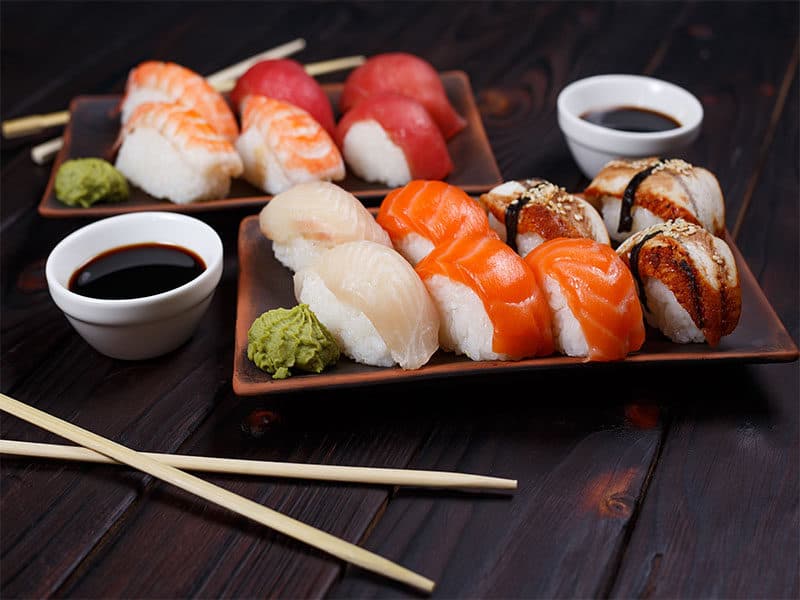 Temaki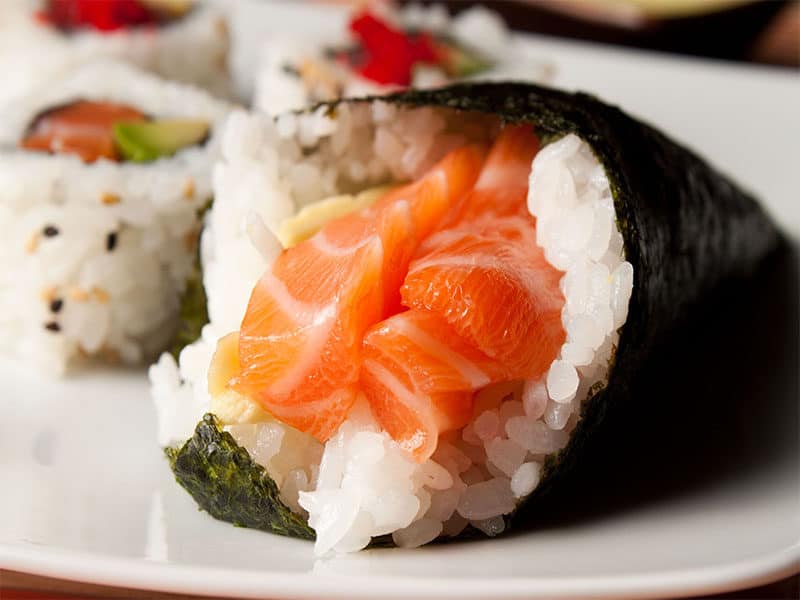 Temaki sushi is sometimes called "hand roll". In some traditional restaurants, a user rolls his sushi bite from the available ingredients. You will need a seaweed sheet, rice, and fillings to mix your own temaki sushi.
When you order temaki in some sushi bars, you will be served a large plate with several fish types cut to match the size of pre-cut seaweed sheet, small bites of veggies, and other toppings. You use your fingers to fill and roll your temaki.
Common combinations for fillings for temaki sushi are:
Shrimps
Salmon
Yellowtail
Amberjack
Sea bream
Sea urchin
Scallops
Cucumber
Radish sprout
Shiso leaves.
It is an excellent choice for beginners who want to experiment with flavors and get their hand in the sushi mixture!
In other restaurants, you will get hand-rolled temaki rolls, which are usually larger than standard sushi bites.
Uramaki
Uramaki is an unconventional sushi roll because the rolling method differs from standard procedure. Uramaki is rolled in white rice inside out, which gives it a unique texture. The ingredients are similar to all other sushi types, and the seaweed goes inside the roll.
Inari
Inari sushi is quite different from other sushi types. You can find it in restaurant menus under the name Inarizushi or Inari.
Sushi rice is stuffed in the tofu pockets, which have been previously deep-fried. The taste is distinct, sweet, and savory because tofu is made in dashi-based broth, a combination of different soups.
Inari sushi isn't widely available in restaurants, and you have more chances to try it in specialized sushi bars.
How Is Sushi Typically Served?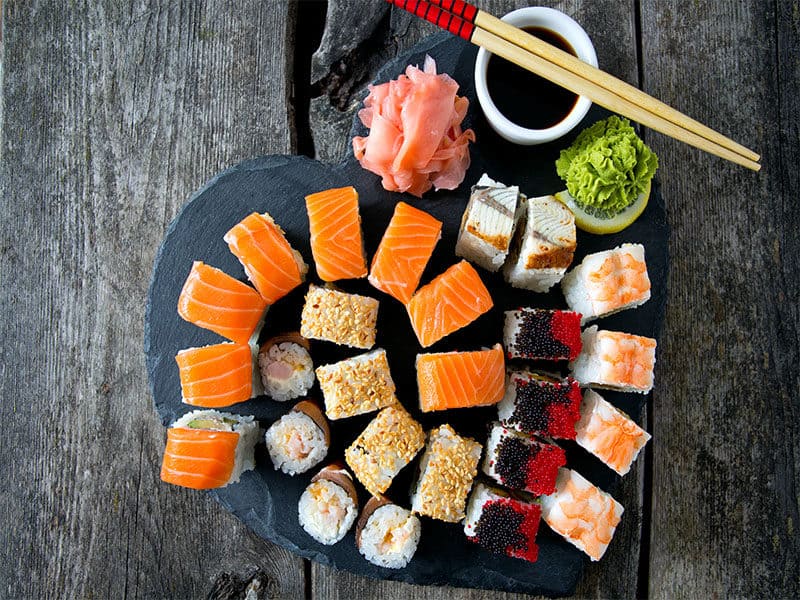 When you order sushi you will get several bites, four six or eight. Commonly, you can mix the ingredients and get your own unique combination of flavors.
However, sushi rolls are part of the four-element meal served on a wooden plate. Apart from sushi rolls, you will get a small bowl with soy sauce, wasabi, and pickled ginger slices called gari.
Wasabi is actually a plant, used for making a green, spicy paste. You only need a small amount of wasabi per serving.
Traditionally, soy sauce is salty. Nowadays, you might ask for a healthier version with less salt. However, if you are trying sushi for the first time, I recommend going with standard soy sauce for a complete Japanese experience.
How To Eat Sushi?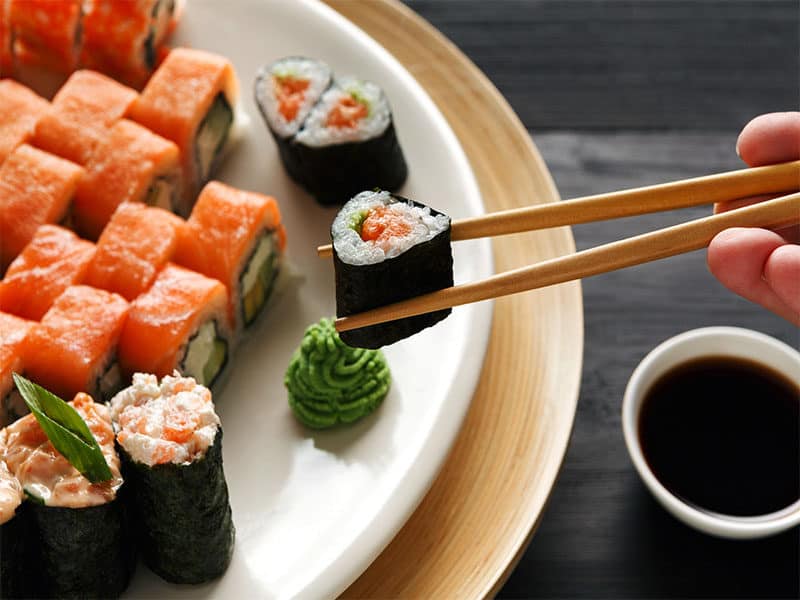 Getting your sushi plate might confuse you, but here is how to properly eat sushi to taste all the flavors.
If soy sauce came in a bottle, pour a small amount of it into the small bowl that came with the plate. Take your chopstick between your thumb, index, and middle finger. If you aren't sure how to hold the chopstick, you can ask a waiter to give a fork.
Start by taking a sushi bite with either fork or chopsticks and dip it into the soy sauce before you eat it. For the next bite, dip your chopstick in wasabi and then put a small amount of wasabi on a sushi roll. However, be careful with wasabi, as it is very spicy. Use only a small amount on chopsticks, and never dip sushi in the bowl with wasabi.
Eat a small slice of pickled ginger between two sushi rolls to help you remove lingering sushi flavors.
Take your time to enjoy all flavors and dose the wasabi and soy sauce, to find the right amount for you.
Watch this video to know more….
Can You Prepare Sushi At Home?
Even if you aren't skilled in the kitchen, you can make delicious homemade sushi. Luckily, all ingredients are available in supermarkets, including prepared vinegared white rice, seaweed, sushi fish, and you can chop vegetables yourself.
The first step is to pick the right seaweed. It should be thick and not flimsy, so you can roll sushi easily, and it won't unroll that easy. The mild ingredients for homemade sushi which won't ever disappoint you are avocado, salmon, and cucumber. You can get a nice piece of salmon and cut it in long, finger-thick, and long bites. Besides, you can use smoked salmon as a healthy source of omega-3s and simple cooking and storing. It will work perfectly for first-time makers.
Then, spread sushi rice on your seaweed sheet, and even the surface to have a better consistency. Put the ingredients on the top and middle of the sheet, and roll it starting on one side, toward the end of the seaweed sheet. A bamboo mat, available in sushi-making kits, can help you roll it properly.
Then use a sharp knife to cut sushi pieces! And that is all!
Serve with soy sauce, wasabi, and pickled ginger, and enjoy your homemade sushi rolls.
Preparing sushi at home is much cheaper than eating in restaurants, and a good way to choose ingredients and see if you like the idea of raw filling rolled in white rice and seaweed. It is also fun to make and doesn't take much time.
Watch this video to know more….
Who Shouldn't Eat Sushi?
Even though sushi is healthy and delicious, some categories of people should avoid it at any cost.
First of all, if you are pregnant, you shouldn't eat sushi. Sushi is genuinely safe for consumption. But, because fish and other ingredients aren't treated with heat, there is a higher risk of infection.
Also, be aware that some fish are never safe to be eaten raw. Those are freshwater fish, including brook trout, pike, and yellow perch. Cook these at high temperatures to make them safe for consumption.
Next, young children and people with the compromised immune system should stay away from sushi for the same reasons as pregnant women.
What Are The Potential Health Risks Of Sushi?
Because it has raw fish as the primary ingredient, sushi can be a risky treat. Raw fish can have bacteria, viruses, or any other parasites which would be killed at high temperatures. Also, if the fish hasn't been stored properly before making the sushi, the risk is even higher.
The most common health concerns related to eating spoiled sushi are salmonella, listeria, and tapeworms.
All illnesses are treatable and aren't life treating, but listeria can be extremely dangerous for pregnant women and people with weakened immune systems.
Tapeworms are parasites that manifest through nausea, abdominal pain, weakness, fatigue, and weight loss.
Eat Sushi Safe
For centuries people have been eating sushi without risks and severe health concerns. But, be careful when trying new food, especially raw and spoilage-prone food.
Go only to reputable restaurants with high hygienic standards. Also, if sushi restaurants enjoy a high reputation, it is probably because of the well-trained and experienced chefs. They can recognize infected fish and toss them away.
If you intend to make homemade sushi, store ingredients the correct way to prevent bacteria from developing. Adjust your freezer to store fish at the lowest possible temperature, to prevent parasites from developing. Also, stay away from fish that are easy to spoil or that you have never used before. Rather, you can start with vegan or tuna sushi, because those are less risky to contain parasites, viruses, or bacteria.
Lastly, don't overeat sushi. Surprisingly, sushi is a very filling food, you don't need over six or eight sushi bites for a complete meal. It has a mild flavor, so it is easy to overeat. It can cause stomach pain and other gastroenteric issues.
Watch this video to know more….
If Not Sushi, Try These Instead
Japanese cuisine offers more than sushi. Therefore, if you aren't ready to eat raw fish and you want to experience Japanese cuisine, try some of the following alternatives:
Noodles – carb-based dish
Okonomiyaki – Japanese pizza or omelet with cabbage
Rice porridge – heartwarming and comforting dish
Katsu – fried breaded meat
Shabu-shabu – warm soup with meat and vegetables
Teriyaki – meat with sugar glaze with soy sauce
Miso soup – soup made from fermented soybeans blended with grains, salt, and kojito form miso paste, a versatile Japanese ingredient used in many dishes
Sushi – Is it Worth the Hype?
Sushi is a delicious meal when prepared properly and with carefully chosen ingredients. It looks like an appetizer, but it can be a well-rounded meal filled with excellent nutrients.
There are five main types of sushi, and all are worth trying. Mildly sushi taste is accompanied with soy sauce, spicy wasabi, and refreshing pickled ginger. Altogether, it makes a unique and coherent mixture of flavors.
Have you tried sushi before? If not, would you try it and why?
If you enjoyed my sushi guide, don't forget to like and share the article to help more people become sushi experts!