One of the main reasons to use a vacuum sealing system is to preserve foods longer and save money in the process. Here are some of the common food enemies that cost you money and the ways in which you can safely avoid them using your vacuum food sealing system.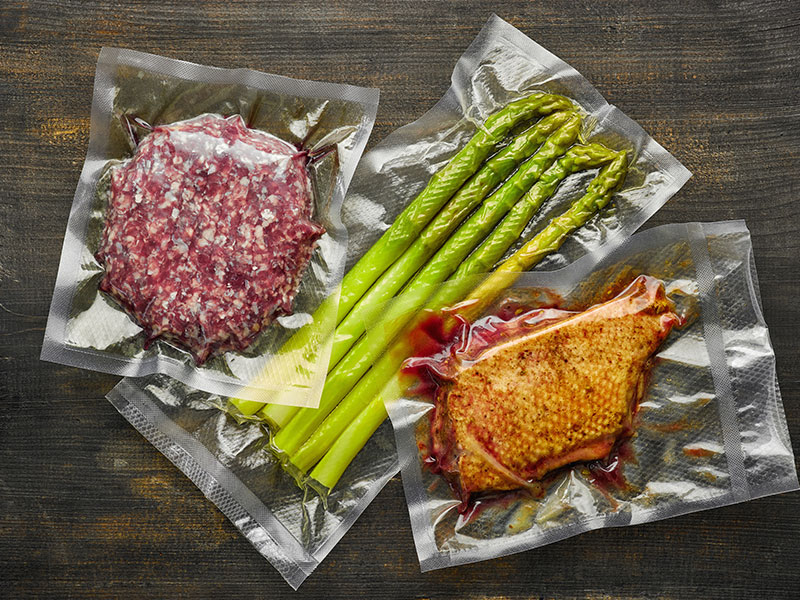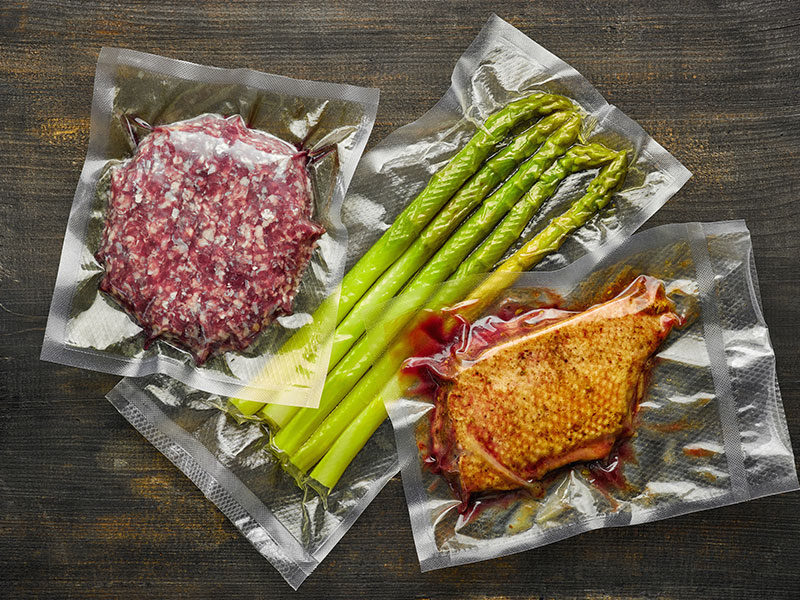 Oxidation
Oxidation occurs when the surface of food reacts with oxygen in the air. Just like rust on iron, this oxidation process often results in changes in the color and texture of the food. When foods stored in a freezer lose moisture and are exposed to oxygen, freezer burn is the result.
By vacuum sealing fresh foods such as fruits and vegetables before storage, you can halt the oxidation process and slow the unattractive browning of your foods. Vacuum sealing meats before freezing seals in moisture while sealing oxygen out preventing freezer burn for up to five times longer than non-vacuum sealed storage.
Bacteria and Mold
We've already mentioned safe food handling tips in this article: The Commandments of Vacuum Sealing Food. But I wanted to mention a little more about some of the common foodborne contaminants and how your vacuum sealing system can help you reduce your exposure to them. I know that information about foodborne illness can be frightening; but if you think about it- these risks have always been present. The steps that you should be following when using your vacuum food sealing system are no different that the steps you should always be following when handling food. So just consider this a refresher course.
Vacuum sealing your food won't eliminate all risks. But, when using a vacuum sealer, you improve your chances of avoiding bacterial diseases because you will be depriving many of the food contaminants the oxygen they need to survive. By slowing or halting the progression of the bacteria or mold growth, you maintain the safety and freshness of your foods longer.
Bacteria
Our environment and even our bodies are filled with all kinds of microscopic organisms. Bacteria can be beneficial to your body or harmful, depending on the type. Harmful microorganisms and bacteria are called pathogens.
It is estimated that foodborne illnesses affect 48 million people annually in the United States alone. While some individuals can consume contaminated foods without harm, others may become seriously ill or even die from exposure to harmful bacteria in food.
Pathogens can contaminate foods at any point during the food life cycle. Bacterial exposure can occur in the field or processing yard or in your very own kitchen. Shellfish, meats, and even bean sprouts can be common ground for dangerous bacteria to lurk. The best way to prevent foodborne illness is to avoid initial bacterial contamination and to properly process and prepare all foods before eating them.
To help protect your family and yourself all foods should be carefully washed and cooked to recommended temperatures.
When handling foods, you should first wash your hands. Maintain a clean workspace and food preparation surfaces.
When processing foods, do not share utensils, tools, appliances, or containers between different types of foods or between cooked and uncooked foods.
Most bacteria grow best at temperatures between 40 and 140 degrees Fahrenheit. This is the reason you do not want to allow prepared foods to sit at room temperature. Heat will slow the progress of bacterial growth, but only while the food is above 140 degrees. Likewise, bacteria in food stored in a refrigerator or freezer will grow more slowly but will begin to multiply once the food is allowed to warm up.
Some pathogens, such as staphylococcus aureus, are not destroyed by cooking. Other bacteria, such as Listeria monocytogenes and Clostridium botulinum are anaerobic and able to survive or even multiply in low oxygen environments. Even when food has been vacuum sealed, safe handling procedures must be observed. Foods must still be stored and cooked at appropriate temperatures. In addition, you must be careful to follow all safe food handling guidelines when packaging and sealing your foods.
If you suspect that the vacuum seal on food that you have stored has failed, do not eat the food.
Mold
Molds are actually tiny fungi that will grow on your food. Because mold is a multicellular creature that grows, it can spread over and into food once it gets a start. Mold also produces spores that can drift through the air, allowing it to spread easily. Like bacteria, molds are found everywhere. Safe food practices involve limiting the exposure to and spread of molds.
The part of the mold you see is not all there is to it. Because it is microscopic, the mold growth itself can reach throughout an entire food item yet remain unseen. Usually this is not a problem, but some molds are toxic. Removing the visible portion will not eliminate the risk posed by the toxin.
Soft and porous foods allow threads of mold growth to travel farther than hard foods. It may be safe to cut off a wide area around the mold on some foods, but soft cheeses and fruits should be discarded. You should research your specific food when making a decision about its safety.
Most molds will be destroyed by heat, but they often fare better than bacteria in cold. This is why you are likely to see mold growing on your refrigerated cheese.
Vacuum sealing prevents mold growth by depriving the mold of the oxygen it needs to grow.
Forbidden Foods for Your Vacuum Sealer
Anaerobic Bacteria Hosts
Some bacteria don't need oxygen and seem to get along pretty well without it. For this reason, you shouldn't try to vacuum seal foods that harbor these anaerobic bacteria.
Because the lack of oxygen will actually encourage the growth of pathogens present in these foods, garlic, onion, mushrooms and soft cheeses are all foods that should not be vacuum sealed.
If you are wondering why you sometimes see these foods sealed in plastic, proper cooking temperatures do eliminate most of the danger. However, because there is a risk involved most vacuum sealer manufacturers recommend against trying to vacuum seal these foods and I agree. There's simply no need to take a risk.
Cruciferous Vegetables
Many common vegetables emit a gas when stored. These vegetables in the Cruciferae or Brassicaceae family include green leaf vegetables such cauliflower, cabbage, bok choy, broccoli, turnips, radishes, and brussel sprouts. If these vegetables are kept in a sealed bag, this gas will cause them to spoil.
In order to store vegetables of this type using a vacuum sealing system, they should be blanched first, dried, then sealed and quickly frozen.
Now You Know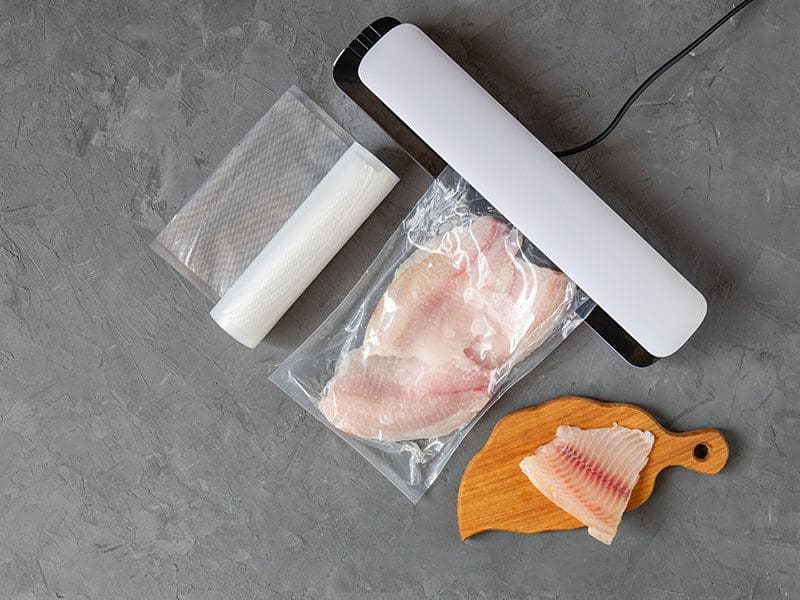 If you are like me and read a long list of things not to do and immediately want to ask, "Why?" I hope that this article will give you some answers. Your vacuum sealing system is a wonderful tool for your home, but no tool will solve every problem. It is up to us to use the tools that we have at our disposal wisely. You can use your vacuum sealer to safely store meats, nuts and dry goods, fresh fruits, and vegetables and save money and space. Hopefully, this article has answered your questions about how to do so in the best way possible.
If you are ever uncertain as to whether a food is safe, throw it away. It is not worth risking your health.
Please keep in mind that this is just a summary of the topic. You should study more to assure that you are aware of the safety risks involved with food handling and how to avoid them. You can also obtain more information by visiting FoodSafety.gov.