One would think right from the name that, say, a FoodSaver vacuum sealer has uses limited to food. True that is the primary idea around such is preservation of food, but with the advances in technology has inspired designs and hardware that allows them to be applied much more widely. We shall highlight some of the numerous areas that a vacuum sealer can be applied in –both conventional and unorthodox- in readiness for any eventualities.
Food Storage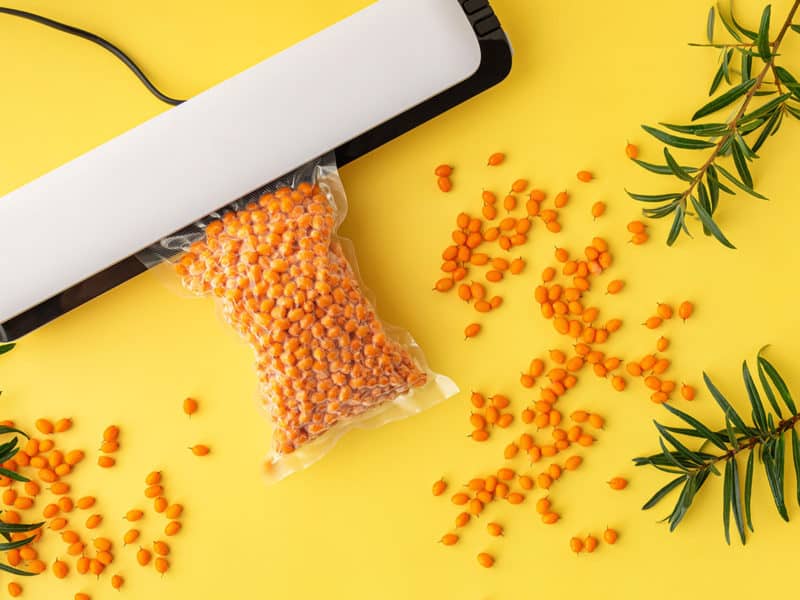 Vacuum sealing is a very convenient means by which to preserve virtually all types of foods including:
Fresh produce
It is extremely easy to store fresh produce such as peas, kales, broccoli, chard, green beans, blueberries, peppers, strawberries, etc. it is advisable that you first freeze the produce, say, on sheet pans and then repackage them into recipe sized portions. These are the packages that you then vacuum seal and store. This makes it convenient for portion control since you just break seal only on as little or as much berries, for instance, as you need. A little keenness with one's hand when opening them up and you can reseal and reuse the bags at least once more. Leftovers can also be repackaged in case you need to fix a quick meal on a busy weekday.
Non-powdery Dry Foods
Vacuum sealers are also very useful when preserving dry goods such as dried fruits, herbs or spices in bulk. For such non-powdery dry foods one way to preserve them is by dry cleaning. This is whereby you place the items to be sealed in a mason jar and uses the jar sealer accessories to vacuum seal them. This is especially handy when you need to store items in times of plenty for longer than usual periods in preparedness for times of lack.
Powdery Dry Foods
This may make for some sort of inconvenience if you try to vacuum seal them in the same manner as above. A little tweaking, however, and they are the easiest type to store. All you need to do is to leave them in their paper storage bag and place the package as a whole in a vacuum bag that has been cut to fit the package.
Resealing Liquids
The shelf life of most liquids, especially wine, drops extremely fast once the seal is broken. There is the option of having a wine stopper attachment in the market now to use with the vacuum sealer. The FoodSaver bottle stoppers are sold in three packs to allow you to seal more than one jar at a time. This is a useful means of sealing herb infused vinegar or oil for preservation.
Protection of metallic items from corrosion
Metallic items, be it ammunition or fine silver, are all very easily tarnished and corroded by exposure to air and moisture. To protect the shine on your silver jewelry or cutlery you can vacuum seal them. This basically separates them from the elements that cause corrosion in air and moisture. Take precaution, however, when dealing with sharp objects to wrap them in a cloth or thick paper before sealing so as to prevent them puncturing the vacuum bag. When dealing with ammunition, ensure that you use strictly the seal only function. Vacuum sealing may cause the slug to pop out of the cartridge.
Resealing Cracker bags, Chip bags and Mylar bags.
You can use chip clips and clothespins to keep contents of bags sealed and safe from spilling but they do little to protect their freshness especially if it is humid. Simply placing the open end of a chips bag gives you a strong heat seal on your bag that eliminates the need for all those, with better results. Vacuuming may break the chips, but sealing still works as it prevents any more air from reaching the chips. To maintain crackers' freshness, seal them using the seal only function just like chips since vacuuming might crush them. If you have herbs or spices in bulk Mylar bags you can easily seal them and keep them from going stale as they await use.
Emergency Preparedness
For people who have little ones, and indeed everyone it is important to have certain items in stock such as band aids in case of  minor accidents and other first aid gear that needs to be kept dry and adhesive that needs to be kept in order.
For larger disaster preparedness, you need to have all the items that you need with you just about everywhere you might need them.  Here too vacuum sealing can come in very handy. A vacuum packed kit comprising of a rain poncho, space blanket and hand warmers is compact and very useful when travelling to cold and wet conditions.
Security of Electronic devices and Media
Water Sports
Any possessions that you take along when taking part in any water sports run a risk of getting wet. You may use plastic bags and waterproof containers for protection. Vacuum sealing however eliminates any risk of water permeating into the container and ruining your belongings. As an added advantage, you can also use your touchscreen phone to answer calls and reply to texts and emails while it is still in the vacuum sealer.
Backup Media
DVD and Blu-ray cases may hold backup CDs and protect them in case they fall. Vacuum sealing them while in the cases however makes them immune from the elements such cases only wouldn't. This also applies for Vinyl records.
Important Documents
To ensure total protection of your important documents such as birth certificates and such you might want to consider vacuum sealing since even lamination can easily get damaged and leave them exposed to the elements. This also protects them as one would need to cut the seal to access the documents and so you would know if someone else has done so by examining the seal.
In conclusion, I believe it is clear that apart from the typical kitchen use of the vacuum sealing appliances they have revolutionized the manner in which we store items that need protection from elements in the environment.