If you cook, you know the problem of saving food in the refrigerator or freezer only to see it go bad or get freezer burn before you can use it. Baggies and food storage containers do a great job of protecting food for a few days in the refrigerator and a few months in the freezer, but what if you need to store food longer than that?
How Vacuum Sealers Work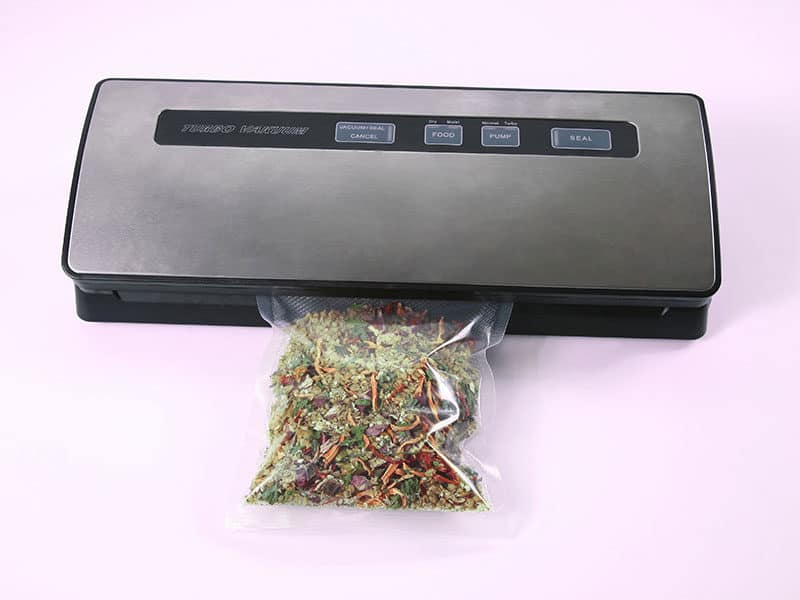 That's where vacuum sealers can pay for themselves. They work by vacuum sealing the specially designed plastic bag in which you've placed your food and then it. This process extracts all air and moisture from the bag. The result is that instead of your stored food lasting only days in the refrigerator, it will now last weeks or in some cases even months. In the freezer, food storage times are extended from months without vacuum sealing to years with it. For example, beef and poultry can normally be stored in a freezer for only six months, but if they are vacuum sealed, they can be stored for two to three years. Without vacuum sealing, cheese can be kept safely in the refrigerator for only one or two weeks, but with vacuum sealing, it can last four to eight months. It's great for pantry items also. Flour and rice can be stored on your shelf for only six months, but vacuum sealing them extends that to one or two years.
Features
FoodSaver is one of the oldest companies in the business; they've been making vacuum sealers for decades. The FoodSaver V3460 Vacuum Sealing System is a highly rated vacuum sealer on Amazon, with a rating of 4.3 out of 5.0 stars. Its features include a vertical design to save space on your kitchen's counter, completely automatic operation with two vacuum sealing speeds, moist and dry settings for optimized sealing, and a specially designed seal that protects delicate foods while sealing. It convenient ly also has a roll holder and bag cutter. The roll holder allows you to store the plastic bags inside the FoodSaver. You can also use containers and canisters made by FoodSaver instead of plastic bags. FoodSaver sells a separate Jar Sealer that allows you to vacuum seal standard Mason and Ball jars.
How to Use It
Operating the FoodSaver V3460 Vacuum Sealing System is simple. You just place your food in the bag and place the open end in the vacuum sealer. The vacuum sealing process will begin automatically. We've seen a lot of complaints about the process on Amazon, but most of the problems can probably be avoided by reading the manual before using the FoodSaver. The most common problems seem to be caused by either small food particles preventing the bag from completely sealing, or not inserting the bag correctly into the sealer. The FoodSaver V3460 Vacuum Sealing System is easy to use, but like other vacuum sealers, you will probably need to experiment to find the right technique. When cutting or buying bags, be sure to allow extra space inside between the seal and your food. Don't fill the bag completely – leave at least one inch between the food and the seal.
Removable Parts for Cleaning
The FoodSaver V3460 Vacuum Sealing System has removable parts for easy cleaning. To avoid damaging the unit, be careful not to close or use it while parts are removed.
Replacement Bags
One common complaint about this unit is the three to four inches of wasted space on each side of the bags. This wasted space increases the cost of buying replacement bags because you need to buy extra to allow for it. One way to save money is to buy generic replacement bags. The ones we've tried seem to work at least as well as bags made by FoodSaver and can be purchased at stores such as Costco. Another way to cut down on the cost of replacement bags by reusing them. You'll need to make them a little smaller each time and to wash them immaculately, but we know of people who do it regularly.
Vacuum Sealing Liquids
Using the FoodSaver V3460 Vacuum Sealing System to vacuum seal liquids can be tricky. Sometimes the vacuum sealer will suck out some of the liquid, which prevents bad from sealing correctly, and sometimes it will leave some air inside, which can allow the food to spoil. A solution that's worked for us is to freeze or semi-freeze the liquid in an unsealed bag before putting it in the vacuum sealer. It solves the problem nicely. It's also possible to freeze it in a different container and then after freezing, remove it from the container and transfer it to the vacuum seal bag. Lining the inside of the container before freezing will make it easier to transfer the food to the vacuum bag.
Vacuum Sealing Meat and Fish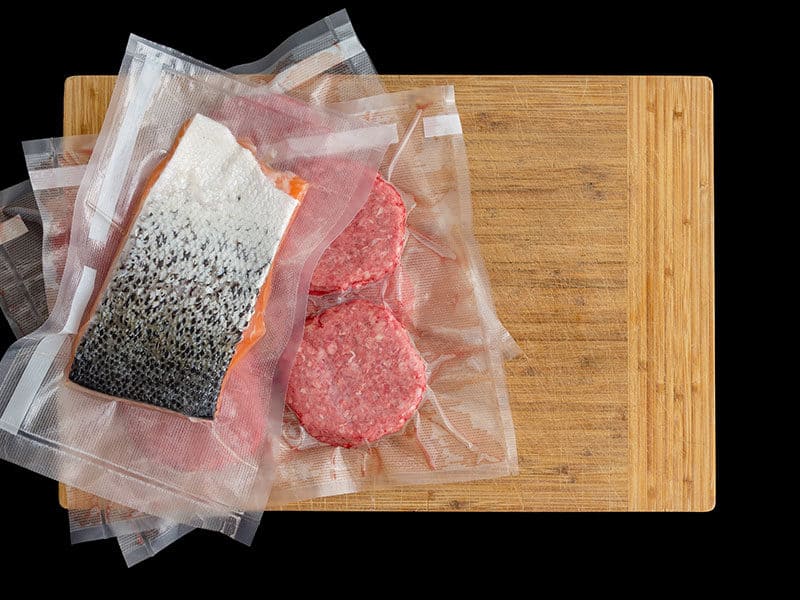 Pre-freezing meats and fish before vacuum sealing them can help seal in juices. If it's very juicy meat, placing a paper towel inside the vacuum sealing bag at the seal end can help absorb extra liquids and moisture.
Power Cord
Our biggest complaint about the FoodSaver V3460 Vacuum Sealing System is the short power cord. It's 32" in length, which may sound like a lot, but in practice it's not, especially for an appliance that is designed to permanently on your counter. You may need to buy a short extension cord.
Noise
Another complaint is the noise. It's louder than we expected, but not intolerable. However it's probably best not to use it if you have a sleeping infant nearby.
Drip Tray
One issue we've noticed is that the FoodSaver sometimes switches automatically into Moist mode. This can be caused by the two metal strips on the drip tray collecting moisture. If the red light comes on warning you that the tray is full but it is not full, try removing the tray and them washing it in warm, soapy water and rinsing it. Then let it dry outside the machine for 24 hours. It's dishwasher safe if you prefer to wash it that way.
Pros
Quickly vacuum seals foods
Can be used on FoodSaver containers and canisters
Can be used on Mason and Ball jars if you buy an optional accessory
Removable parts for cleaning
Can use generic vacuum seal bags
Cons
Can be tricky to use if you don't read the manual
Short power cord
Noisy
Sometimes switches to Moist mode if drip tray hasn't been cleaned
Wastes some bag material
Conclusion
The FoodSaver V3460 is an excellent way to keep your foods fresh longer. With regular use, it can quickly pay for itself. Unlike some other vacuum sealers, the FoodSaver V3460 Vacuum Sealing System is completely automatic.